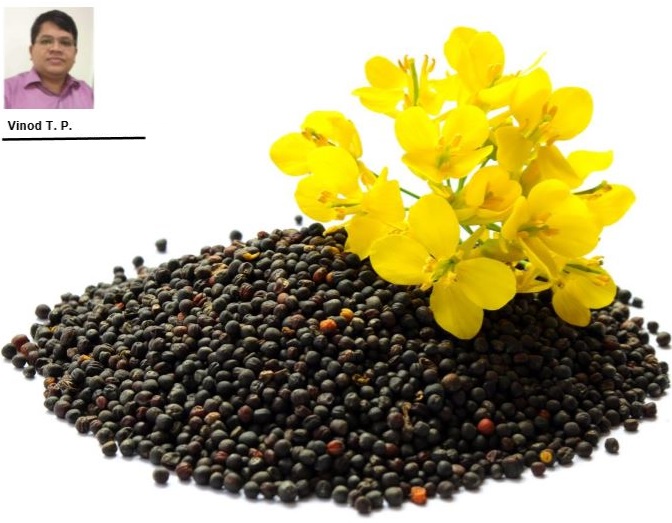 Mustard seed is one of the major oilseed crop after soybean and oil palm. It is widely cultivated across the world and is the third leading source of edible oil. Oil content in mustard seed varies from 33% to 46% and the average oil recovery is around 32% to 38%. The seeds and oil are largely used in various cuisines across the world. Apart from cooking, mustard oil is used for body massage to keep the body warm during extreme winter. Mustard meal, after extracting oil from the seed is an important source of protein and is used as a feed for cattle and poultry industry. It is a major rabi crop grown during winter and it accounts for 30% of the country's total oilseed output. In India, it is largely grown in Rajasthan, Uttar Pradesh, Haryana, Madhya Pradesh and Gujarat. The sowing season begins in October – November and the flowering season is from November till February. The seeds can be harvested from February to March.
Mustard seed or Rapeseed is a temperate crop and cultivate across the world. According to the US Department of Agriculture (USDA), during 2019-20, world mustard seed production was around 69.22 million tonnes. Canada and Europe both constitute more than fifty percent of total global output. Canada, the largest producer and exporter, contributes around 28 percent followed by European Union, which accounts for 24 percent. In Asia, China, India, Russia, Ukraine and Pakistan are the major producers. India is the fourth largest producer and consumer, contributing around 11 percent of the world's total production.
Europe, China, Canada, India and Japan are the top major consumers of which, some portion of domestic demand in Europe and China are met by importing. Around 66 percent of world demand are met by Canada, a leading global exporter. Though India is not a key player in the Exim market, it is a small supplier of the oil. Yet, the demand and supply of the other oilseeds affect the price of mustard seed.
Global Mustard seed balance sheet
According to USDA, world's mustard seed production is expected to be around 68.93 million tonnes during 2020-21, down by nearly one percent due to lower acreage. The total supply during this year is expected to be 92.3 million tonnes, which is down by more than two percent due to lower carry-over stocks from last year. Total supply consisting of imports of 16.12 million tonnes and the opening stock of 7.25 million tonnes at the beginning of the season. On the demand side, total mustard consumption, which includes crush, food and feed waste, during the current marketing year is at 70.93 million tonnes, whereas the export is estimated at 16.23 million tonnes. There is a balance of 5.14 million tons of excess carry-over stocks at the end of this season and the closing stocks is below twenty-year average. This tightness in ending stocks compared to the last year is mainly due to rise in exports to fill up the consumption amid falling output. This has resulted in rise in prices, both in domestic and International markets.
Another agency, the Agriculture and Agri-Food Canada (AAFC) reported that the canola (a variety of mustard grown in Canada) supply has tightened significantly from last year, falling by 9 percent to 22.0 million tons, resulting from a 29 percent decline in carry-in stocks and a 5 percent drop in production. For this year, carry-out stocks are forecast to fall by 62% from last year, to a historically tight situation of 1.2 million tonnes with a stock-to-use ratio of 6 percent versus 15 percent in 2019-20, which is at 5-year average of 14%. In the meantime, Canadian exports are forecast to be up by 7% from last year to 10.9 million tonnes, the second highest level on record. This is supported by strong demand from China, European Union, Japan, UAE and Mexico.
The average price of mustard seed for 2020-21 is seen rising to $825 per ton from $810 per ton in the previous year due to lower carryover stocks compared to the previous year. Moreover, higher world oilseed, vegetable oil and protein meal prices along with aggressive Chinese stocking of meal is supporting the prices.
Recent price trend in mustard seed
NCDEX Rapemustard seed (Rmseed) prices has been trading at multiyear high since July 2020 after hitting a peak of Rs. 6330 per 100 kg last November. Though prices corrected by more than 20 percent from its peak, it is currently witnessing a recovery in prices.
Following the spread of COVID-19 virus in India early last year, lockdown restrictions across the nation hampered market sentiments disrupting most of the operations of the mandis. This coincided with peak arrivals season in the market. At the same time, weakness in other oilseeds and lower demand from traders accelerated the selloffs. However, prices recovered later after government relaxed restrictions and government started to procure the produce by NAFED to support the farmers on price crash.
Meanwhile, shortage of edible oil stocks in the domestic market due to import restrictions on palm oil and higher import duty on soy oil along with higher oil demand from domestic households encouraged crushing of mustard seed for oil. Prices regained its strength on shortage of supplies in the domestic market along with fall in output during 2019-20. Higher domestic consumption of edible oils on back of festival demand supported the prices as well. Rise in export demand for mustard meal. and ban on blending of mustard oil with other oil to prevent adulteration pushed the prices to multi year highs. According to report released by Solvent Extractors' Association of India (SEA), mustard meal exports, during April-December, were at 141,866 tonnes, up by around 136% from a year ago.
Consequently, rise in Minimum Support Price (MSP) and higher domestic prices with favorable soil moisture owing to good monsoon has helped the farmers to grow lucrative crops such as mustard seed during rabi season. The government fixed the minimum support price of the crop at Rs. 4,650 per 100 kg for 2020-21 (April -March) marketing season. Later, major gains were trimmed in mid November on expectation of higher rate of sowing and bumper mustard seed output during this season. Farmers in the country have sown mustard across 6.9 million hectares, up by 10.6% in 2020-21 season, aiming to harvest an all-time-high 12.5 million tonnes of mustard according to data from the Agriculture ministry. However, tightness in both domestic and global oilseed stocks have been supporting significantly most of the oilseed prices.
Going forward, tight global mustard stocks and strong exports are likely to keep the prices in the northward trajectory. Moreover, tightness in other oilseed crops and its bi-products such as oil and meal have a strong link with the mustard seed prices. The strength of Chinese demand has to be monitored closely. However, if farmers planned to expand canola area due to higher return, the current rallies are likely to limit the upside journey. Moreover, current La Nina condition remain supportive as cold weather pattern is likely to increase the yield of the crop. Other factors affecting the canola outlook are soybean planting intentions and expected yields for both the US and key growing nations in South America. Although there are reports of increase in planting, supplies are expected to remain tight for both continents. Back home, in spite of expectation of bumper output in India, strong export demand for mustard meal and higher domestic edible oil prices amid lower stocks are likely to support the prices in the near term.