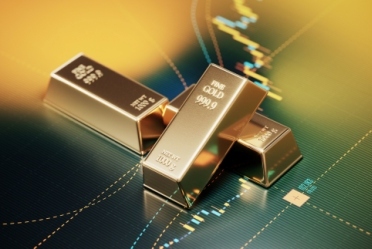 Investing in gold through Sovereign Gold Bond (SGB) offers many advantages. Here, we will take you through the features of SGB and how you can invest in it.
Why is SGB is a better option to invest in Gold ?
Among the various options that are available to invest in gold, by far SGB appears to be the superior option (probably across the world, available for Indians).
It enables investors to participate in the price performance of the yellow metal, without having to physically handle or store it.
What are SGBs?
Sovereign Gold Bonds, also referred as SGBs, are government securities denominated in grams of gold. The Bond is issued by Reserve Bank on behalf of Government of India. Investors pay the issue price in cash and the bonds will be redeemed in cash on maturity.
The key return boosting features of SGB are:
Rs.50 / gm discount on the nominal value at issue (for online mode)
Interest of 2.5% p.a
Capital Gains tax exempted at redemption / maturity for individuals.
Due to the interest rate component, SGB outgrows the net CAGR, compared to the normal mode of investing (say other electronic options, and Physical).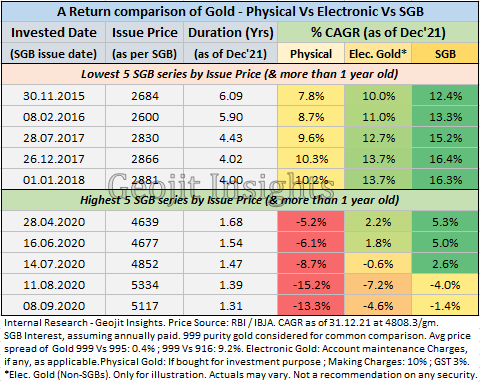 Let's understand this with an example. As illustrated in the above table, let's take the SGB issue of 01.01.2018.
Issue price was Rs.2881/gm. If one were to invest for 50 gms, the cost comes to Rs.141550 (2881 minus 50 discount /gm X 50gms) at issue.
At the market rate of Rs.4808.3 / gm as of 31.12.21, the current value comes to Rs.240415 (for 50 gms).
Gains if invested normally = Rs.96365 [(4808.3 minus 2881) X 50 Gms] with a CAGR of 13.7%.
This SGB series completed 4 years, fetching an interest of 14395 (including the accrued portion till Dec'21).
Hence the total value of SGB comes to 254810.
Gains through SGB = Rs.113260 (Discount: 2500 + Interest Amount: 14395 + Capital Gains: 96365). This works out to a CAGR of 16.3%.
SGB gains are better by 17.5% approximately.
Eventually upon maturity (of 8 years), the Capital Gains tax are exempted for individuals. On post-tax basis, the effective returns would further improve.
Since SGBs are listed in exchanges, it also provides tradability options (subject to series specific liquidity and price).
Rolling Returns Analysis on Gold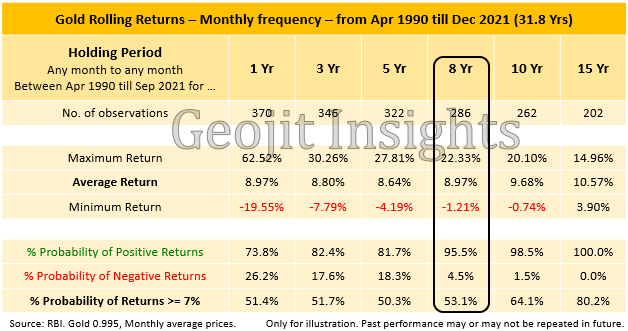 Sovereign Gold Bond 2021-22 Series IX is open for investment from 10th January 2022 to 14th January 2022. The nominal value is Rs. 4,786 per gram. You can enjoy a discount of Rs.50 per gram (issue price : Rs 4,736 per gram), by applying through Geojit and making payment via digital mode. Apply here https://my.geojit.com/#/sign-in/SIPIPO_IPO