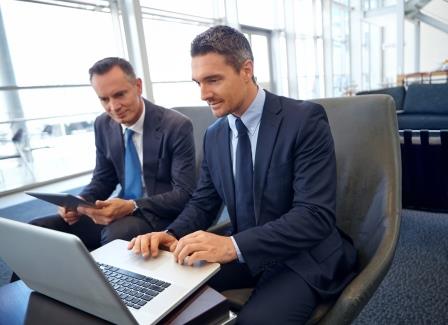 Our previous issue carried an article titled "Portfolio Management Service – Your Wealth Chaperone", which provided comprehensive information on Portfolio Management Services.  This article discusses about the usefulness of availing portfolio management service in taking decisions on selecting and managing an investment policy.
Today, individual investors have unprecedented access to investment information and markets. And investing in a portfolio of stocks, fixed income, debt, structured products and securities are both profitable and exciting. But, should individual investors manage their own investments without the assistance of portfolio managers?
Successfully managing an investment portfolio goes beyond making good individual investment decisions. It requires considerable financial acumen, analytical skills and the ability to continuously evaluate and adjust the portfolio. This is because your financial picture is bound to become more complex as your assets grow. Add to this the ever-increasing complexities of the taxation system, evolving financial goals and ever changing investment needs, keeping track of your investment becomes a daunting task.Hence, it only makes sense for investors to rely on a portfolio manager to give systematic and unbiased advice to manage risk and pursue growth.
There are several domestic and foreign players offering PMS services in India. And since 2004, Geojit has offered Portfolio Management Service to its clients, which has maintained an enviable record of wealth generation. Their Portfolio Managers have a judicious blend of knowledge and experience, and have been offering professionally managed, adequately diversified portfolios to its high net worth clientele.
In PMS as with any investment, there are risks from market and economic volatility, but Geojit's portfolio management team uses a diverse mix of investments and asset classes that together help mitigate risk. The active management of portfolios enable the team to gauge and maneuver risky or overly volatile sectors and maintain mature financial positions. The portfolios are also re-balanced on a regular basis to help stay in line with the client's original investing goals.
As every client is unique, the PMS team invests heavily in understanding their objectives, priorities and ambitions. The team then uses its long-standing experience and expertise to choose the investment solutions to deliver superior growth, responsibly and securely over a three to five year investment horizon.
To take the stress out of investing, investors can choose from one of Geojit's two per-defined portfolios, each matched to a specific risk profile and clear set of aims.
Advantage Portfolio
Positioned to invest predominantly in equities of mid and small cap companies. The fund will normally invest in stocks of mid and small cap companies having sound track record, quality management, stable earnings, growth potential and strong fundamentals. This is suitable for investors with an above average risk appetite.
Freedom Portfolio
Invest across a wide gamut of fundamentally strong business in the large cap, mid cap and small cap stocks. It identifies under priced stocks with high growth potential that are available at deep discount to their intrinsic value. This is suitable for investors who are looking for exposure predominantly in large and mid-cap.
Geojit's discretionary portfolio management has added significant value to the investor as opposed to benchmark investment, as shown in the table below.
Performance of PMS Portfolio: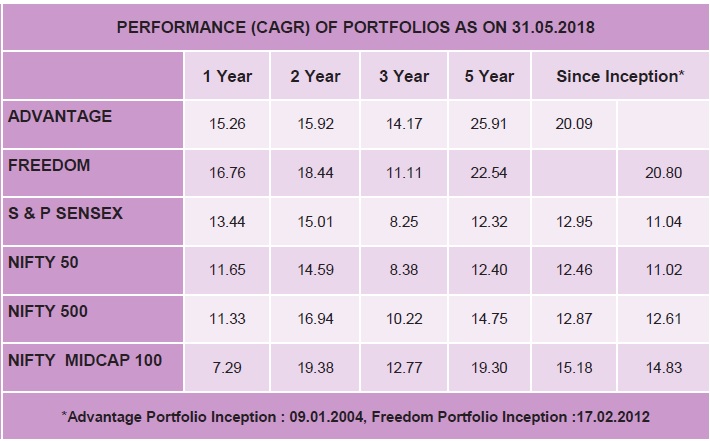 Market volatility has always been a part and parcel of investing as policy uncertainty, earnings reports, geopolitical unrest etc. can trigger market swings. Portfolio volatility has a large negative impact on investment performance, which can rattle even a seasoned investor. Market downturns may be upsetting, but history has shown that the stock markets have been able to recover from declines to provide investors with positive long-term returns.
Geojit's overall PMS strategy takes into account what is to be done in the event of a major downturn. Portfolio managers put such uncertain times to good use and motivate their clients to stay invested with the objective to cut losses and maximize the returns on investment. The table below shows how Geojit's sound investment plan helped investors to ride out the peaks and valleys of the market and gain superior returns. This only goes to prove that in choppy markets, it pays to have a sound investment plan and to stick to it.

PMS provide a hassle-free, transparent and customised investment platform for investors to participate in equity markets.It offers lucrative returns to investors who have a structured and disciplined approach to investing and are willing to invest time to nurture their portfolio.