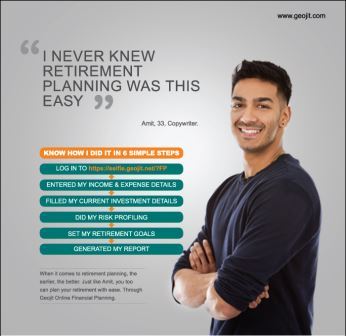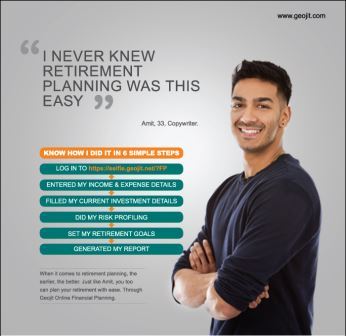 Rohit : Retirement Planning in 30s!? Are you Crazy?
Amit : No. I'm not.
In a country where majority of its population works in the unorganised sector, financial security during old age is a growing challenge. When defined benefit pension schemes are slowly fading away and contributory and self funded pension schemes are been introduced, it is evidently going to be an era of self reliance. Those working in private sector as well as business men and others it means spending old age without regular income, because they lack sufficient retirement corpus to fund retired life.
Amit, right from his childhood, had seen his father struggle. He was working for a private company for years and retired at the age of 58 .His father had very little savings left with him after Amit's sister marriage a few years ago. The EPF and gratuity left over was too meager an amount to fund the family's monthly expences. Moreover, medical expenses added to the challenge. He could see no friends or relatives helping his father financially in his old age since they knew that he could not pay them back. This was the first financial lesson for Amit's.
So soon after entering a job at the age of 25, the first thing Amit did was to start investing for his retirement. There was another calculation in his mind. In future when he gets married, his expenses might go up and he might not be able to contribute the same amount towards retirement kitty. Hence starting early gave him additional mileage. He also used to increase his monthly investment by 10% every year as his salary increased, which luckily he is still continues to do so. Now he is 30, happily married with a kid. Due to his 8 years of disciplined investment, he had generated enough corpus from which he used some portion towards his marriage expenses. Earlier he had only one goal in front of him, which was retirement. Now after marriage, with more responsibilities on him, he explored the idea of financial planning.
He has accumulated some corpus in mutual funds, his ancestral property and some gold given to him by his mother with him. He recently bought a car with 50% funding and 50% loan. Now he has a few requirements in front of him.
He wants to bring all his financial products under one roof and have a aggregate view of them.
He wants to understand his income expense pattern.
He wants to know what is his real net worth in terms of his loan and investment he has.
He wants to plan for his kid's higher education and marriage in the same way as he did for his retirement.
He has a third goal of funding his child's marriage.
He wants to invest towards these goals according to his risk tolerance levels and wants to see the achievement levels of each goal on real time basis.
He wants to know how much term life insurance cover he requires to make his family secure in case something happens to him. He has company provided health policy but wants to have a separate one personally.
As he does health check up every 6 months, he wants to have a regular watch of his financial health too.
Amit found a simple ready-made solution for his all requirements. Geojit's Online Financial Planning. It provides complete solution to personal finance management requirements. It has a separate retirement planning module which enables him to accumulate wealth to ensure a happy and tension free retirement life. It captures details like investments, income, expense, loans, insurance and goals and presents a comprehensive plan which shows the current financial position, areas of concern, corrective measures and guides you on asset allocation. It also helps in monitoring all these variables.
Amit's advice to youngsters is to start planning and saving for one's money needs right from the first month of getting into a job. A more important thing is not to stop investing in fear of losing job or market collapse. Be confident in yourself and live great.
Posted: June 2018