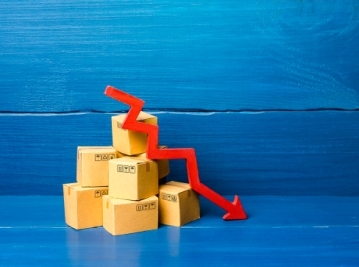 Consumer sentiments have turned sour. Both lives and livelihoods face serious threats ironically, months after vaccines became available. Risks shot up even as uncertainty. Failure of the public health system and a woefully inept state are the immediate causes of increased risks. These have led to avoidable loss of lives, loss of dignity in death, and also loss of household incomes. These dour conditions have in turn caused a fall in consumer sentiments which will hold back the economic recovery process.
The index of consumer sentiment declined by 1.5 percent in the week ended May 16, 2021. This was the fifth consecutive week of a fall in consumer sentiments. Cumulatively, the index has dropped 8.3 percent since the week ended April 11, when it began its persistent fall. It has fallen 9.1 percent since the last week of March. Such a fall is comparable to the fall seen in March 2020 and May 2020. The main reason for the fall remains the same a fall in household income and increased pessimism regarding their future.
In the week ended May 16, only 3.1 percent of the households reported that their incomes were higher than they were a year ago. It doesn't get this bad easily. There were only two weeks when it was worse. But those looked like statistical aberrations. This looks less like one. The proportion of households saying that their incomes were better than a year ago has been falling steadily since the week ended March 21.
From around the same time, the proportion of households stating that their incomes were worse than a year ago has been rising. Well over half the households 55.5 percent reported a loss of income compared to a year ago. The remaining 41.5 percent stated that there was no change in their income compared to a year ago. It is safe to assume that well over 97 percent of Indian households have suffered a fall in real income.
The sustained fall in consumer sentiments over the past few weeks has been accompanied by labour market stress as well. The labour participation rate has fallen and the unemployment rate has risen. April 2021 had seen an increase in unemployment and a fall in consumer sentiments. May seems to be headed in the same direction. The unemployment rate shot up to 14.5 percent in the week ended May 16, 2021. This is the highest unemployment rate in last one year. The average unemployment rate in 2020-21 was 8.8 percent. It was 8 percent in April 2021. It could be in double-digits in May 2021.
Differences in the behaviour of labour markets and consumer sentiments during the past one year throw light on the nature of India's economic recovery from the sharp economic contraction of April-June 2020.
During April and May 2020 when the economy was struck by a stringent lockdown, both, the labour markets and consumer sentiments collapsed. Labour participation fell sharply and unemployment rates shot up to over 20 percent in the two months. Employment fell by 29 percent in April. Consumer sentiments fell 43 percent in April and further by 9 percent in May 2020.
Employment recovered 11 percent in May. Employment continued to recover through most of 2020-21, although at an increasingly slower pace month after month. In April 2021, employment was close to, but still short of its pre-pandemic level. At 390.8 million it was 4.4 percent less than it was on an average in 2019-20. For reference, employment in April 2020 was 31 percent lower than the 2019-20 benchmark.
The substantial recovery in employment, although still not complete, is not reflected in household consumer sentiments. In April 2021, the index of consumer sentiment was nearly 49 percent lower than it was in 2019-20. In April 2020, it was nearly 57 percent lower than the 2019-20 average. Consumer sentiments have almost not recovered from the initial fall.
An incomplete recovery in employment and rock-bottom sentiments do not tell us the same story as the fast-frequency supply side statistics tell us about the Indian economy. Electricity generation, railway freight movement, GST collections, steel production, two-wheeler production indicate that the pandemic and the consequent series of lockdowns or mobility restrictions are behind us and the economy is recovering well. Electricity generation had recovered fully by September 2020. Railway freight movement recovered by August 2020; GST recovered by September 2020; finished steel production by August 2020 and two-wheelers by August 2020.
The supply side of the economy had started recovering by September as restrictions on movements were lifted or eased. But the economy did not offer the same jobs as earlier and not the same household incomes either. By December 2020, household incomes were 6.7 percent lower than the average incomes during 2019-20. Indian households are getting poorer.
While the supply-side has sprung back at least in the large organised sectors, the demand side continues to remain broken. If households are feeling poorer and if they see greater risks to their wellbeing, they are not going to spend enthusiastically. Consequently, demand constraints will pose a challenge to the recovery process.
References: https://economicoutlook.cmie.com/kommon/bin/sr.php?kall=wshreport&tabcode=001124000000000000&repnum=104834&frequency=M&colno=1
The article appeared in Business Standard.