The wisdom of the market is that successful investments are only created by following a long-term investment strategy, and this approach has paid off for our portfolios. Advantage portfolio is one of the three portfolio strategies, which has shown consistent performance since its inception compared to its benchmark. The scheme focuses on investing in mid and small-cap stocks and has delivered 17.2% (as of April 30, 2021 ) compounded annualized growth return to its investors compared to the Nifty Midcap return of 15.1% for the same period.
The objective of Advantage portfolio is to invest predominantly in equities of mid-cap and small-cap companies with a sound track record, quality management, earnings and growth potential, and strong fundamentals.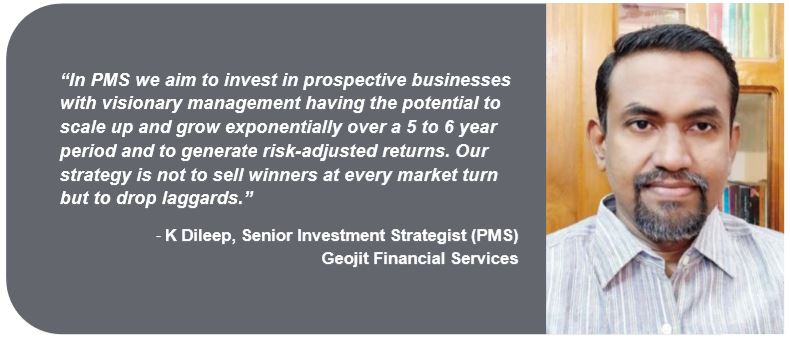 Advantage portfolio, the flagship portfolio offering of Geojit, was among the 36 schemes that generated more than 100 percent return in the Financial Year 2020-21. The scheme has been rated as one of the best performing PMS portfolios by pmsbazaar.com, a private research firm that tracks around 250 PMS schemes on a real-time basis. According to PMS Bazaar, Advantage portfolio at 6.33%* was the best performing PMS in the mid and small-cap category in the country in April 2021.
Portfolio schemes best suit the investors seeking long-term wealth creation through investments in high-growth potential companies. Unlike Mutual Funds, Portfolio schemes are concentrated in terms of the number of stocks they carry in their portfolios. Concentration builds meaningful allocation in best investment ideas and avoids excessive diversification; over-diversification may lead to average returns.
*data as published in Moneycontrol article.