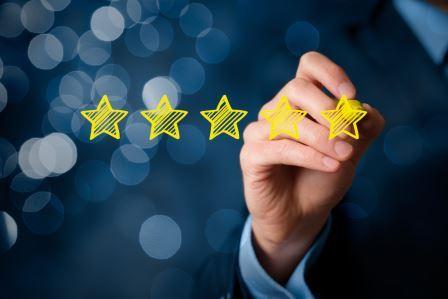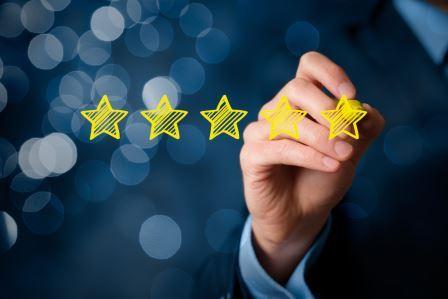 From The desk of Axis MF
It has been 10 years since the sub-prime financial crises that gridlocked financial markets and put economies into a limbo. In the years' following the crises, markets have seen a significant change across investing styles and the way assets are managed. Domestically, the S&P BSE Sensex recovered all its gains suffered during the crises after a period of 3 years. However, thereafter it remained stagnant for the next 4 years.
During this time the S&P BSE Quality Index, an index tracking company which score well on common financial parameters like return on equity and free cash flows has significantly beaten broad market indices. The recent volatility seen in the markets has brought quality investing back into the limelight. At Axis AMC, quality forms a focal point of our investment strategy due to the inherent benefits it offers over sustained investment periods.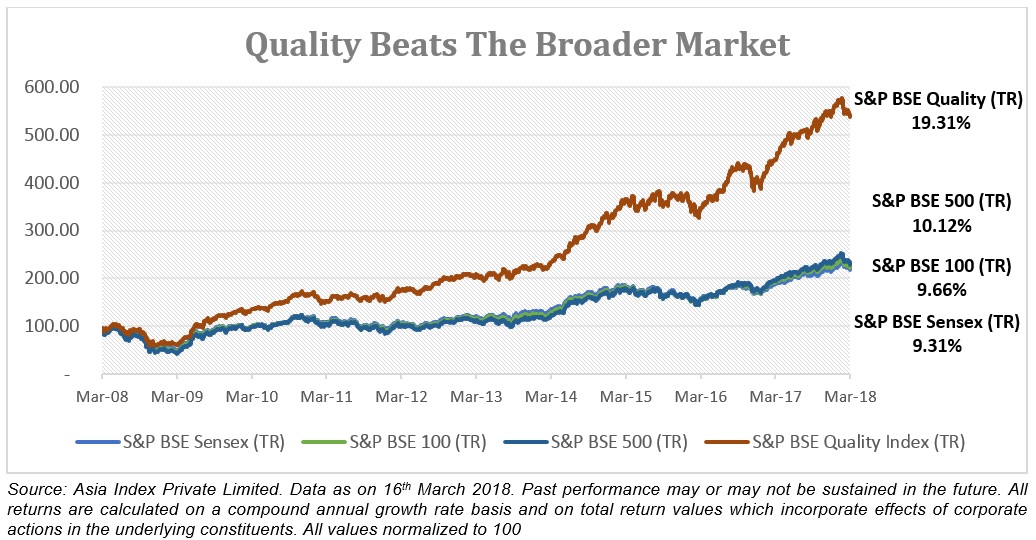 What is Quality?
While there is no single definition, in our opinion, quality typically connotes a combination of two sets of factors.
Quantitative Factors
Strong Return Metrics (E.g. Return on Equity(ROE), Return on Capital Employed (ROCE))
Stable Cash Flow – A company should be able to fund its organic growth from internal accruals and use long term capital and working capital efficiently.
High profitability, low debt-to-equity and earnings consistency
Qualitative Factors
Strong management pedigree
Transparency of operations for investors and key stakeholders
Credible oversight committees and strong internal controls
Sustainable long term business model
In aggregate, this style offers two potential advantages. First, quality has historically delivered a return premium, i.e., the opportunity to outperform a broad benchmark over the long term. And second, it offers a high margin of safety. Quality typically outperforms other investment styles during periods of turbulence as these stocks are considered less volatile in relative terms by market participants due to their inherent fundamental attributes.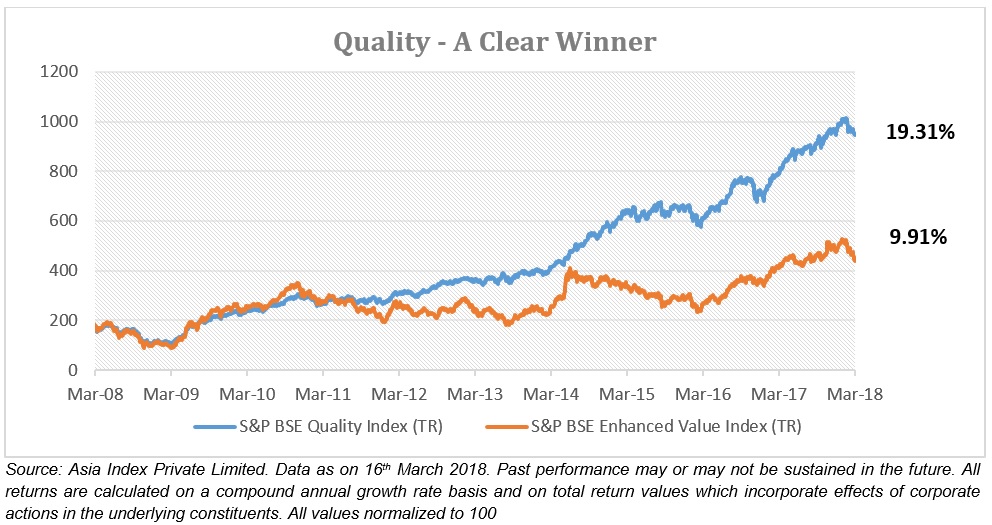 Quality – An Axis Experience
At Axis, we primarily follow bottom-up stock selection approach with a minimum of two to three years view on stocks. Bias towards high quality and growth with strong fundamentals are the key look outs for our fund managers to select companies for their portfolios.
There are four principles that the investment philosophy at Axis is driven by. These are:
Strong corporate governance/strong promoter pedigree
Secular growth rate of the sector, which is anywhere around 1.5 to 2x of GDP
Strong business model, which demonstrates its pricing power in the product category and the business it is in, and ultimately
GoodROE'sand cash flows
About 80% to 90% of our portfolios are based on this philosophy and we have been continuing with it since our inception in 2009.
Recent Events – Steadfast adherence to quality pays off
Our approach to quality has enabled us to navigate through pockets of pain in the market. Few examples are as below.
The Commodity Complex
Commodities are a cyclical business that work on the demand appetite of the global market. Economic growth is an indicator for commodity demand. In 2013-16, the price of key commodities dropped by up to 60% causing havoc in the commodities market.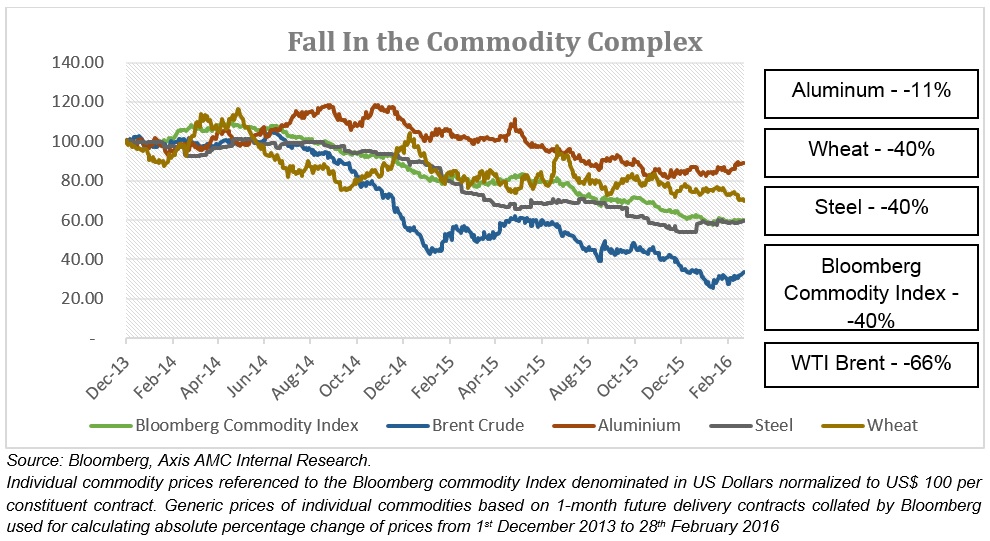 The fall in commodities worked positively for India which is a net importer of commodities. However, select industries like crude oil, steel and wheat bore the brunt of this fall thereby witnessing a deterioration of their respective corporate balance sheets and destroying significant market wealth.
NPA Cycle
Public sector banks have seen significant decay in asset quality since 2015. As the NPA cycle grew worse, the provisioning norms ate into corporate profits and assets values saw significant erosion leading to a fall in the banks share prices. Large private banks also saw significant NPA's in their corporate loan books.

Retail-focused private banks however, remained largely unscathed during this and hence commanded a significant premium to their corporate banking peers. Another pocket of quality lay in the housing finance and non-banking financial space due to the largely retail focus and strict ALM policies in place.
Way Forward
As highlighted above, quality has been an all-weather wealth creator for long term investors despite several blips in performance. While uncommon, these blips in performance have not eroded the wealth created during the market upswing. Further it is important to note that companies labelled as quality are fundamentally driven rather than by sentiment and hence the volatility quotient of these stocks remains relatively lower as compared to momentum and value driven stocks where asset pricing is dependent on subjective factors.
Axis MF has been a strong believer in a result oriented approach to investing and hence has stuck to this line of investing since inception.
Axis MF Disclaimer:  https://gcc.geojit.net/Mailers/532351510201855/10. AXIS MF Disclaimers.pdf