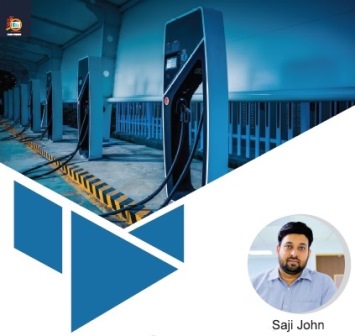 By Saji John
Amidst rising pollution, electrification of transportation is an essential need not only for India, but across the globe. The need for a change from fossil to non-fossil form of energy was the highlight of the recently concluded Paris Agreement. Transportation vehicles constitute the larger part of the overall carbon emission in India. This led to the initiative to develop a long-term policy and measurably shift to electric power from internal combustion engine. The government has a vision to manufacture a majority of the new vehicles in the electric mode by 2030. But the industry's timeline is much more conservative vis a vis government ambitions. SIAM says the industry will be able to achieve full electric mobility for intra-city public transport fleets, commercial vehicles and three wheelers by 2030 and only 40 percent of two wheeler and passenger vehicle will be attained. It however says that hybrids and other alternate fuels will account for another 20 percent by 2030.
EV – India's critical solution provider
Electric vehicles (EV) are touted as a one stop solution to many critical problems in India. The most direct and immediate impact would be in curbing air pollution and reducing the import of crude oil. India imports more than 80% of its crude oil requirements which is growing steadily each year.  As per International Energy Agency, India's crude oil consumption is projected to grow to 458 million tonnes by 2040. Mindful of how much this can drain the economy if the price of crude oil goes up, the government has set a target and reduce its oil import by 10 per cent by 2022. Electric vehicles will have a big role to play in this. A Niti Ayog report on electric vehicles, released earlier this year, talks about a reduction of 156 million tonnes of oil equivalent (mt), worth Rs 3.9 lakh crore, if its target of electric vehicles accounting for 40 per cent of two wheelers, cars and SUVs and 100 per cent of all commercial vehicles and three wheelers is achieved. This is the same target that SIAM's white paper has listed to be achieved by 2030. Quiet understandably the promotion of electric vehicle is a strategic goal for the government to cut the country's oil import to maintain its fiscal discipline.

Efficient and Low cost battery – The major ingredient of EV
EV will stimulate demand for commodities required to manufacture battery, such as lithium, cobalt, copper and other materials. The most popular battery technologies are the lithium-ion batteries due to their high energy and power density as well as their high lifetime compared to other types. The cost of a lithium Nickel Manganese Cobalt Oxide (NMC) battery as well as silicon based lithium ion battery is $300 currently and a significant price reduction is expected (more than half of the total sales price) by 2020 due to the rapid growth of the battery market, technology improvement and economies of scale linked to the EVs one. According to the Boston Consulting Group (BCG) it is expected that the cost will come down to 100 dollar/kWh between 2025 and 2030.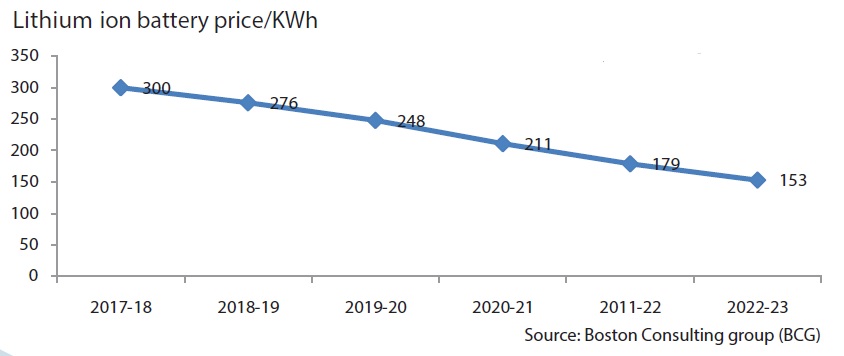 Major EV led acquisition by Indian OEMs
On September 17,2017 Maruti Suzuki, announced its plan to set up a $600 million lithium ion-battery factory. Mahindra, too, is investing some Rs600 crore to ramp up its EV division, and is expected to launch electric variants of its popular SUVs, Scorpio and XUV 500. Bus-maker Ashok Leyland has announced a strategic partnership with SUN Mobility, a transportation solutions startup, to develop a battery swapping system for electric buses. Mumbai-based JSW Energy, too, plans to invest $623 million in electric cars, batteries, and charging infrastructure. In sight to the ambitious target the government has already made a beginning by replacing the fleet of government cars to electric over the next 3 to 4 years. Subsequently, the government announced to buy 10,000 cars from Tata Motors in 2 phases and 500 cars delivered in November. The vehicles will be procured at a per-unit price of Rs11.2 lakh.
Consolidation in ancillary segment is likely
The Auto Component Manufacturers Association of India (ACMA) have assessed that electric vehicle will have almost 60% fewer parts compared to cars than run on fuel. Among the parts that will see demand dry up once electric vehicles dominate are engines, transmission, aluminum castings, cylinder blocks and cast iron. These will give way to an electric motor run by batteries. The transition will lead to consolidation in the sector where small players will be eaten up by big players. It will be categorized by a shift in sales from unorganized players to organized players where technology becomes the mainstream for decision making. Auto component Industry has a market cap of 2.73 lakhs crores of which 50% is directly linked with manufacturing of engine and transmission led components. This segment will be negatively impacted by the introduction of EVs as the focus would shift from engine management, fuel efficiency and emission control to batteries and drive motors.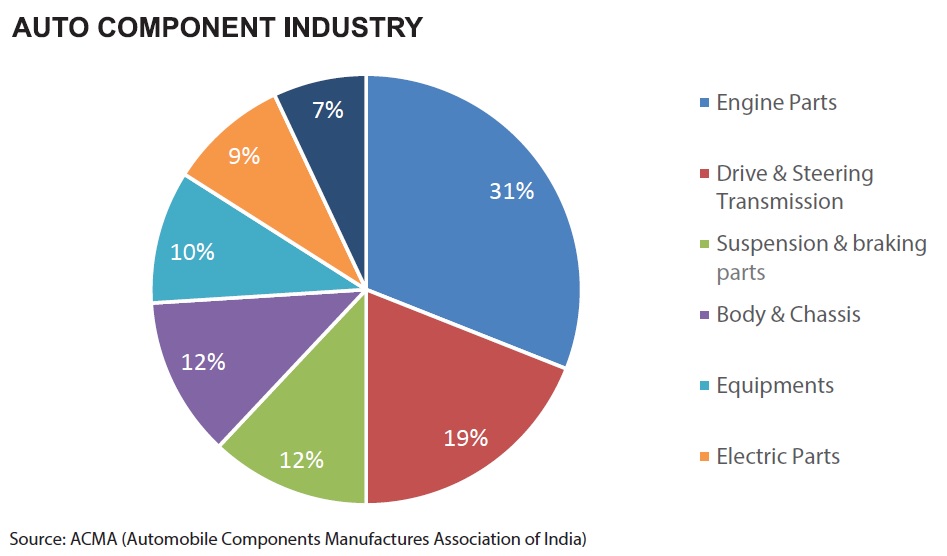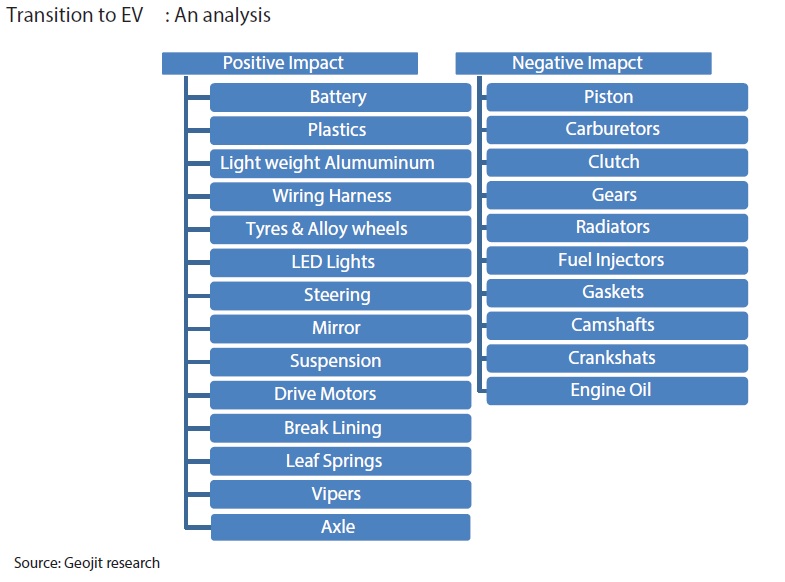 Lithium and China overhang
Automakers are clear about the India's EV target but there is no clear roadmap on how to get there… we need more clarity. On the other hand, China has reached an agreement with Tesla to set up its own manufacturing facility in Shanghai to build a wholly owned factory in the city's free trade zone and also made an exception to its local manufacturing norms sufficient enough to spur Elon Musk's Tesla Inc.  China clearly understands India's aspiration to make the country a manufacturing hub for exports to South and South East Asian countries as India is widely seen as a potential rival to China's economic dominance. To go further Chinese firms are already acquiring assets in countries such as Bolivia, Australia and Chile, which have substantive lithium reserves trying to establish a monopoly in it. On the back of these acquisitions and China overtaking the US last year as the world's biggest electric car market, there are concerns about lithium supply. Electric car sales in China increased at a compound annual growth rate of 179.4% between 2013 and 2016 to 329,000 units, equivalent to 1.4% of total sales of fossil-fuel run cars, according to Bank of America Merrill Lynch. In 2016, India saw sales of 450 electric cars, less than a 1% of the entire electric vehicle sold in India.
Our Take
We believe that the situation on the ground is vague but the direction is clear. Recently the government announced that it would bear up to 60% of the research and development cost for developing indigenous, low-cost electric technology. A corpus of Rs14, 000crore has been set aside under the National Electric Mobility Mission Plan and a uniform tax rate of 12% levied of EV much lower than 28% for IC engine.
To summarize, the automobile industry has largely sought rationalization of tax slabs and removal or reduction of cess by the Government in Union Budget 2018-19.
Firstly, the Government needs to create an effective and tax-friendly framework for smooth implementation of electrification of India's huge transport fleet.
Secondly, transition to EV requires technology transfer and India lacks a quality supplier to adhere to the need, thus any ambiguity with respect to imports through CKD (Completely Knocked Down), SKD (Semi Knocked Down) and CBU (Complete Built Unit) modes needs to be removed first, else the very purpose of 'Make in India' for the automobile sector will get diluted.