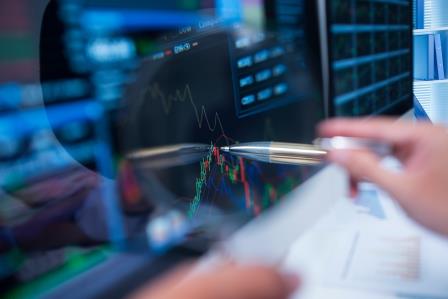 We had gone in last week expecting HDFC Bank to embark on the next leg of extended declines, aiming 1370-20. However, given the slowdown in downside momentum, we are weighing the prospects of a recovery attempts being made while inside the 1525-1460 region, or an outright recovery and push above 1570 which could also serve to lessen the heavy bearish bias the stock has been bearing lately. That said, the prospects of a vertical rise look low, but whichever way this stock swings, it can have a bearing on the prospects of Bank Nifty, given the 29% weightage it has in Bank Nifty index. Meanwhile, more than 50% of Bank Nifty constituents are still above 50DMA, suggesting that the index could find new leaders. Also the Index as such appears due for a bounce back, but we would be first interested in initiating shorts on pull back to 45000. However, we feel that, after due consolidation, the latter part of October could see a breakout beyond this region.  
Meanwhile, FIIs have ramped up their index future shorts, which now constitute 27% of shorts in the segment across participants. Also, the short to long proportion of positions by FIIs has tested 70%, a historically high figure. However these figures needs to be seen in perspective of the total OI of shorts, which is still lesser than that visible at the start of September. Also, we saw shorts at an extreme in late July, post which an uptrend was seen. Incidentally, October is historically a good month for Nifty, and the high amount of shorts, present an ideal set up for reversals. With Nifty, 19420/320 region stands in the way of an 18600, what last week's sharp decline almost promised. However, Friday's inside bar encourages us to look at the prospects of revival, and a run beyond 20000, if a close above 19780 is managed. With Sensex, the challenge faced by 66100 resembles rejection trades, but if the slippage thereof does not extend beyond 65700, expect a return to a sustainable uptrend, first aiming 66500.
Like the indices, the USDINR pair got stuck last week, after couple of failed runs to get past the 83.27-83.44 barrier. The pull back thereof did find buying interest from the key level of 82.78 keeping the bias neutral. A few upswings followed, but none attracted enough momentum. We will begin the week expecting fluctuations, but will keep positive bias, as long as above 82.98.
First published in Financial Express