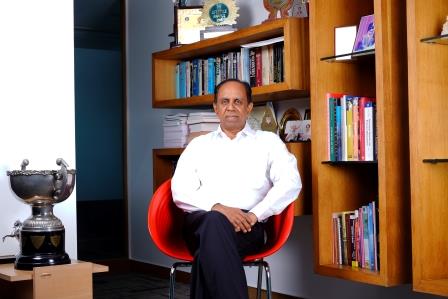 The Indian equity markets have usually been nervous delivering muted returns ahead of budget. New York-based short-seller Hindenburg Research's allegations of stock manipulation and accounting fraud in Adani Group firms have added to the pre-budget nervousness in the markets. C J George, MD and CEO of Geojit Financial Services, spoke with DH's Gyanendra Keshri about equity markets outlook and expectations from the Union Budget 2023-24. Excerpts
There seems to be nervousness in the market, especially after Hindenburg Research's report related to Adani Group firms. Where is the market heading?
Normally, the market is in a bad situation before the budget. Post budget it gives some returns. This time the market decline has its own reasons, which we don't know what shape it is going to take. Unless the budget has something big, last week's event (Hindenburg Research's allegations related to Adani Group firms) will continue to bear more relevance for the market rather than the budget. It can also have some impact on the immediate foreign inflows. There will be further studies. I think that the event (Hindenburg report) is not something that affects just one group company. It will have some bearing on the market for a short period of time at least.
What kind of action is expected from the government on the allegations made in Hindenburg Research's report?
The content of the research report has relevance to the market as well as the corporate governance. So the government has precious little to do unless there is some investigation and evidence to say that a fraud has been committed.
What is your outlook for the market?
I am not seeing significant outflows from the market. However, the markets will not give significant positive returns in 2023. This is our view. Particularly retail investors should not jump into the market expecting serious returns in 2023 unless they pick stocks of companies that are doing very well for a long time. For such companies and for such stocks even if the market declines it's a short time event after that it will recoup. I don't see the possibility of traders making money. This is not going to be a good year for short-term investors.
I am really concerned about the kind of trading that is happening in derivatives. A large number of youngsters are investing in it without knowing what it is, and how it is. A recent study by regulator SEBI gives ample evidence to the fact that the majority of the people – individual traders – are actually losing money. People are taking chances in the market. A lot of them are gambling. There is a difference between speculation and gambling. Very clear distinction. Speculation can be a studied position-taking, whereas gambling is largely about taking chances. Millions of new traders who joined the markets in recent years, especially youngsters, are largely taking chances. It's very unfortunate that we have seen this in the market. They need to be careful.
What is your advice to young retail investors?
My advice to young investors is to invest in SIPs, ETF, and good quality stocks. While investing through direct equity, it is advisable to study the market and products with the help of advanced tools and platforms, plus reports provided by your advisers. Wealth is generated by investing in a portfolio of stocks of well managed companies and similar financial products. They must resist the temptation to gamble and thereby lose money. Trading requires expertise.
What are your major expectations from the Union Budget 2023-24?
This is kind of an election budget so the rural economy and agriculture will be the mainstay. However, the budget is likely to give a lot of fillip to manufacturing and infrastructure. There is an opportunity in manufacturing all of a sudden and I am sure the government will plan to further strengthen and take advantage of this opportunity. China-plus-one strategy is actually working at the ground level.
What signals show that the China-plus-one strategy is working in the favor of India?
We have seen the signals of investment coming to India. This is what I understand from the banking circles who are very active in global trade and trade financing. This is clear from the trends of capital flows. Large banks on global trade are seeing indications of capital flows into manufacturing by global manufacturers in India. So there is a clear indication of some traction in the China-plus-one strategy. I think it is working.
What is the finance minister expected to do in the budget to support manufacturing? Do you expect further expansion in PLI schemes?
My guess is that there will be a lot of support for manufacturing thereby increasing employment opportunities in the country. Expansion of PLI is, of course, one. If it is expanded to more sectors, if it is expanded in terms of quantitative numbers, etc. there could be more investments and thereby more jobs.
Do you expect any major change in income tax rates to give relief to the middle-class?
I am personally of the view that the government is unlikely to give any major concessions in the personal income tax rates, but this being an election year I will not rule out also. Going forward, the focus will be on exemption free tax regime – a simple, straight, lower tax rate and no exemptions. Maybe that is the direction that the government is likely to strengthen rather than give all kinds of direct and indirect exemptions.
First published in Deccan Herald