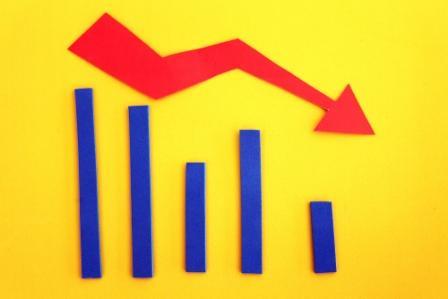 GDP
Indian economy registered a growth rate of 3.1 percent in Q4FY20, bringing down the growth rate for FY20 to 4.1 percent, lowest in the last 11 years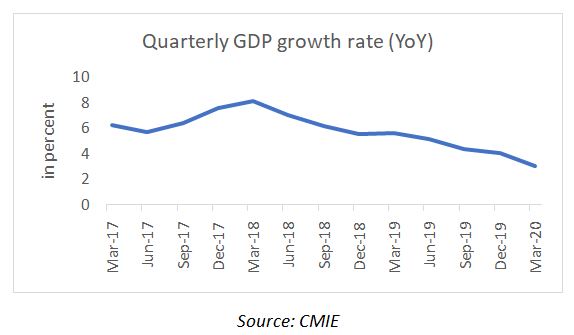 Private Final Consumption Expenditure (PFCE) measuring consumption demand registered a growth rate of 2.7 percent in Q4FY20. Investment demand as measured by the Gross Fixed Capital Formation (GFCF) registered a sharp contraction of 6.5 percent in Q4FY20.
On account of the economic damage caused by covid-19, Indian economy is likely to register a contraction in its GDP growth rate for FY21.
As per the IMF, Indian economy would register a sharp contraction of 4.5 percent in 2020.
Inflation
Due to the unavailability of data, on account of national lockdown, general Consumer Price Index (CPI) has not been released consecutively for two months (April'20 & May'20).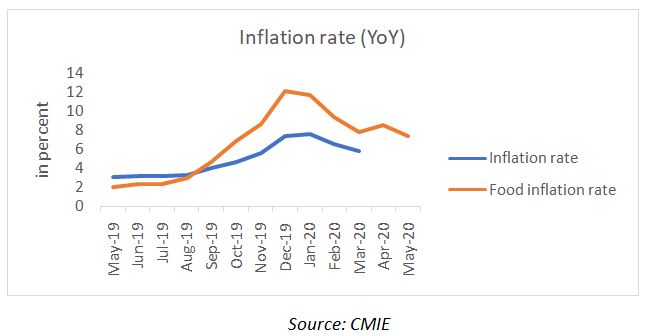 Food inflation rate continues to be in the elevated levels at 7.4 percent in May'20, though there is some moderation when compared to previous months.
Inflationary pressure on vegetables has eased from 24 percent in April'20 to 5 percent in May'20, whereas on egg, fish and meat, it increased from -3 percent to 15 percent.
Industrial Output
Industrial output as measured by Index of Industrial Production (IIP) contracted by 55.5 percent in April'20.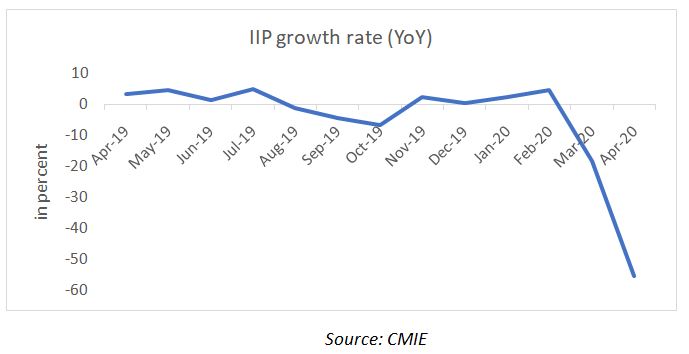 Mining and quarrying registered a contraction of 27 percent, whereas manufacturing contracted by 64 percent and electricity by 23 percent in April 2020.
In terms of use-based classification, capital goods recorded a contraction of 92 percent, whereas primary goods, intermediate goods, construction goods and consumer goods contracted by 27 percent,66 percent,84 percent and 62 percent, respectively.
External Sector
India's foreign exchange reserves crossed $500 billion mark for the first time. As on 26th June 2020, India's forex reserves stand at $506.8 billion.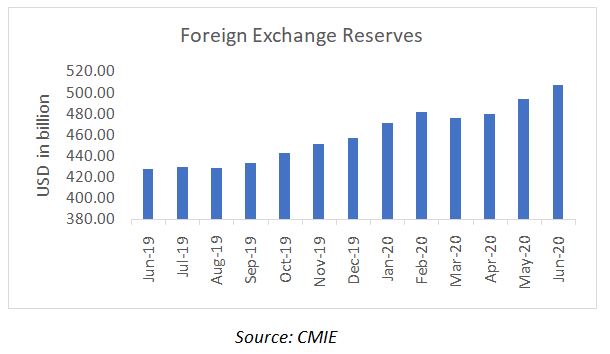 The surge in forex reserves can be attributed to the spike in FII inflows and savings in import bill.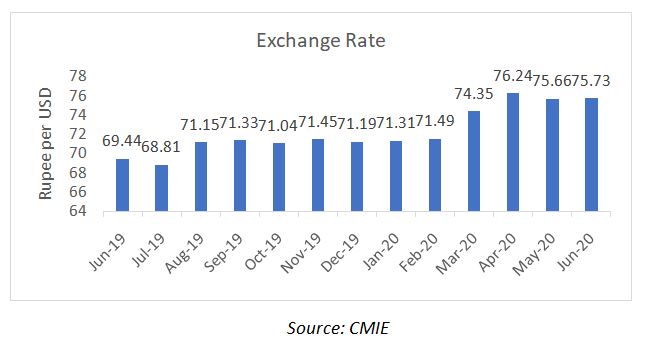 The value of Indian rupee against USD remained stable in June'20 at 75.73, compared to 75.66 in May'20.
Foreign Trade
India's trade deficit narrowed to USD 3.1 billion in May'20.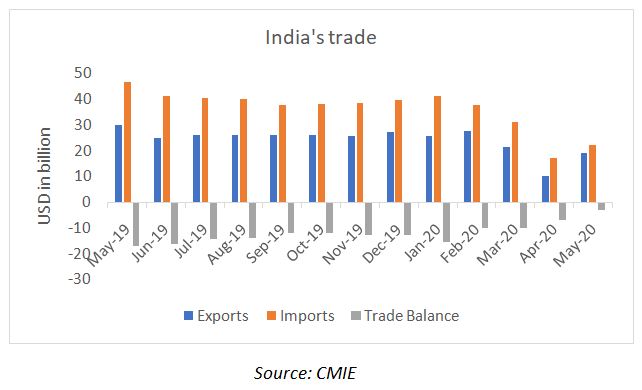 In May'20, exports registered a contraction of 36 percent (YoY) whereas imports contracted by 52 percent (YoY).
The slowing global and domestic demand, and the restrictions due to covid-19 attributed to the contraction in the trade sector.
Capital Market
In June'20, SENSEX rose by 7.7 percent to end the month at 34915, whereas NIFTY rose by 7.5 percent to end at 10302.
FIIs/FPIs remained net buyers in the Indian market with the net investment in equity and debt market at USD 3.1 billion. The loose monetary policy by Central Banks across the globe supported the inflow of funds.
The net investment by mutual funds in equity and debt market stood at USD 5.4 billion in June'20, compared to USD 2.3 billion in May'20.
The 10-year G-sec yield in June'20 stood at 5.8 percent. The Open Market Operations (OMOs) by the RBI aided the fall in the yield. The Central Bank might resort to more OMOs to soften the yield, amid the excess supply of government securities in the market.
Data as on June 2020