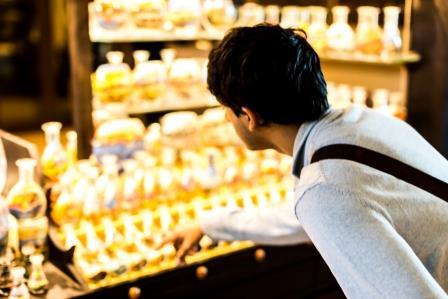 Gold: Domestic prices held firm due to weak INR while London spot plummeted to multi-year lows
Domestic gold took a deep breath after the recent declines, bouncing off prices from its six-month low of Rs 29,270 per 10 grams, the yellow metal rose to Rs 30,376 in the futures market. An all-time weak INR, which lifted the landed cost of the commodity, made gold costlier in the domestic market against its international counterpart. Possible rural demand due to good monsoon and expectations of upcoming wedding and festive season requirements too bolstered the sentiments. Meanwhile, international prices declined for a fifth consecutive month in August, crashing to a near one and a half year lows.
Gold had showcased an exceptional run-up from 2004 to 2011, when price of the yellow metal went up from $400 to $1,900 a troy ounce. However, since peaking in 2011-12, London spot gold has been trending lower and is now trading down by more than 39 percent from the peak.
Gold's appeal had recently dulled due to a combination of factors like money flowing into equities at the expense of gold, strong dollar and monetary tightening by the U.S. Federal Reserve. Robust U.S. economic growth outlook after the Trump administration's package of tax cuts and government spending is boosting confidence in dollar. U.S greenback is now attracting more haven flows as investors are now paying attention to the U.S Federal Reserve's monetary policy moves.
A strong dollar is prompting traders to stay away from taking big bets on gold. The Dollar Index, measuring the value of the dollar relative to a basket of other currencies, swiftly reversed from its three and half year low, in mid-February this year, gaining more than 8 percent. This was supported by U.S. Administration's move on imposing tariffs on imports. A firm dollar makes gold expensive for holders of other currencies as gold is priced in dollar.
The U.S Federal Reserve raised rates twice this year and is on course to hike it further, backed by the strong labour market and rising inflation. Increasing U.S. interest rates are alarming non-interest yielding assets like gold. Higher interest rates lift dollar and boost yield in other assets like bonds, which could dent investor appeal on interest-free assets like bullion.
In the meantime, gold usually gains when global geopolitical conditions worsen. However, it is not reflecting in gold now, challenging its safe-haven appeal. Simmering geopolitical issues, concerns over ongoing U.S. – China trade spat, U.S sanctions on Iran, increasing oil prices, growing anxiety over Brexit and Turkish financial crisis had little impact on the precious metal. The yellow metal stayed weak despite U.S. imposing sanctions on Iran, which is expected to hit oil supply and raise inflation.
The bearish stance in gold was also accentuated by demand concerns from consumers like China and India, which form a huge market for the commodity. Investment interest in gold remains under pressure as the holdings of SPDR Gold Trust, the world's largest gold ETF has fallen to two and a half year low.  The net short bets on gold by hedge funds and large speculators are also at its multi-year low levels.
However, though weakness sustained in the overseas market, Indian gold prices gained substantially due to weak local currency and premium charged by domestic traders ahead of peak demand season. Indian prices have been mostly on an upside trajectory since the start of the year, barring for occasional downswings.
A record weak INR has left considerable impact on sentiments in the Indian gold market. The Indian currency has fallen more than 12 percent since January, to its all-time low of Rs 72.09 versus dollar. Since the country meets large part of its gold appetite through imports, weak currency cause higher landed cost for the commodity.
There are expectations of better physical demand from the country due to an above average monsoon. Historically, a good monsoon and rise in the rural income generally lift bullion demand.  Jewellers are reportedly building their stocks nowadays to meet their future demand as well. Usually, Indian demand for gold perks up in the last quarter of the calendar year as Diwali and Dussehra fall during this period, when purchasing gold is treated as auspicious.
Looking ahead, the U.S – China trade war worries will continue to dominate the global economy and demand for commodities. Policies taken by the U.S. Federal Reserve and its repercussion on U.S. currency, geopolitical factors, global crude oil prices, performances of the stock market and physical demand from China and India may sway the sentiments. Feeble global emerging market currencies perhaps lift the inflation hedge appeal of the yellow metal later. Inflation could bring down the value of one's portfolio, and investors usually invest in gold to beat their inflation risks.
On the domestic front, prospects of a good monsoon, upcoming festive season and chances for higher rural income due to increased MSP are likely to trigger firm rural demand. With the current market fundamentals being unfavorable for gold, a wait and watch approach may make sense for larger investments. Still, buying small quantities at periodic intervals with a view to hold for a longer period, would be a better strategy.
Posted: September 2018