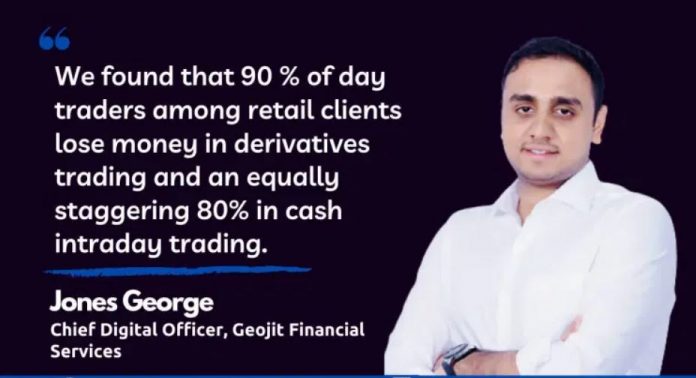 In conversation with Jones George, Chief Digital Officer, Geojit Financial Services on how technology is nurturing the equity culture and the way the future of stock trading business will pan out, Jones told TechGraph that, "Technology is growing at an incredibly fast rate, but at the same time, there are so many developments that are increasingly becoming obsolete as well."
Read the complete transcript:
TechGraph: How is technology transforming the stock trading business? Do you think the trend had taken hold even before the pandemic-induced disruptions?
Jones George: Yes, of course, technology has been transforming the trading business in many ways much before the pandemic induced disruptions. Owing to technological changes, today the market is more mature, transparent, agile, and is rewarding for those who are willing to take well-calculated risks. Thanks to technology, the equity cult is fast-changing, and so are we.
An example of the use of technology would be that high-frequency trades command one-third of the daily trading volumes. This has been the trend for the past few years and the ratio continues even during the pandemic.
Similarly, not too long ago, opening a trading account was a cumbersome process but Aadhaar facilitated opening accounts online. This is one of the strongest reasons why the industry has been able to bring in a record number of traders and investors.
TechGraph: What are the common tools used to build new investor engagement models? Do you see AI and Big data analytics emerging as game-changers for equity trading?
Jones George: I believe there are two schools of thought that can be applied here. The first is to respond to the market demand or adopt a follower strategy. The second and more proactive way in my view is to spot a trend in advance and pioneer with a product or service just as demand starts to build. We believe in following the second path. As a result, for our tool kit, we use a full suite of technology-driven communication channels to keep our customers connected on a real-time basis.
Recently, we launched a platform called Smartfolios, offering baskets of stocks, which runs on big data and helps research analysts to pick quality stocks. The platform alerts all clients holding similar baskets whenever there is a change in its constitution. The feedback for the platform has been extremely encouraging and we are working on deploying a similar solution on all our platforms.
Besides equity trading, big data also helps us to better cross-sell other distribution products to our clients. We are currently experimenting with AI models in our operations, which will be graduating from its existing environment very soon.
TechGraph: Millions of millennials have started stock trading in a big way post-pandemic outbreak. Do you think this will `democratize' the equity markets?
Jones George: Yes, Between March last year since WHO declared Covid-19 as a global pandemic, and today, approximately one crore new investor accounts were opened.
Similarly, another 80-90 lakh or so Mutual Fund folios have also gone live. We see unprecedented retail participation in the stock market and a substantial percentage of them are in their late 20s or early 30s. You can only ignore them at your own risk and peril.
However, there seems to be a case to create better awareness of the risks of trading among millennials. The last year has largely seen a bull run in the market so a lot of new entrants have benefited but this should not let anyone be complacent. Stock markets can be extremely humbling. As for whether the flood of new investors would democratize the market, I think it is too soon to reach a conclusion. We would have to see the market activity at least through one correction to make a better judgment.
However, this surge in millennial accounts shows that the next generation is capable of thinking beyond the traditional investment vehicles.
TechGraph: What also intrigues us and to a certain extend bothers us is a study that we conducted some time ago to see how many clients make money from trading?
Jones George: We found that 90 % of day traders among retail clients lose money in derivatives trading and an equally staggering 80% in cash intraday trading. This is bothering us when we see the flood of millennials into trading rather than investing for wealth creation. We would like to handhold them using technology tools to help them create wealth. We did see traders burn their fingers and then coming back to us for help.
TechGraph: What are the steps your firm has taken to roll out new tech tools and digital platforms which appeal to new-age investors?
Jones George: We offer the entire suite of products and services that cut across all technology platforms starting from mobile apps to social media platforms to short messaging or micro-blogging sites. Since the lockdown, we have seen an increase in customer communication through WhatsApp.
Since WhatsApp messages weren't recorded, we wouldn't accept orders through it. Not only did we release an official WhatsApp channel, but we were also able to connect a client directly with his/her relationship manager and make it as seamless as a one-to-one interaction and record the conversation.
Our new digital on boarding platform integrates with DigiLocker and UIDAI to make customer on boarding as seamless as possible. We have some exciting new releases on the tech front in the coming months to help new investors make better investment decisions.
TechGraph: What is your view on discount broking? Do you think regulations will pose a major hurdle for discount broking in the days to come?
Jones George: Geojit is a full-service broker, and what it means is that we provide end-to-end assistance to clients to help them make good investment decisions. Our aim is to facilitate our clients to be wealth creators. As our tagline says, we want to be the people our clients prosper with.
Our clients feel safer knowing that there is always a branch of Geojit at their disposal for whatever their needs. Our digital technologies are not built to displace this human connection, but to augment it. In plain words, there is a large market out there for discount broking but there is a larger market for organizations such as ours to help people create wealth. I do not see any particular regulation that will affect only one side of the broking industry.
TechGraph: Geojit has recently launched a global investment platform based on artificial intelligence to buy international equities. Do you see a rising appetite for international stocks like Apple, Google, and Facebook?
Jones George: The global investment platform was launched in response to demand from a section of clients who wanted to diversify their portfolio beyond geographical boundaries. Indians are also consumers of services and products offer by many companies like Apple, Google, Facebook, Netflix, and so on. Being consumers, it is only likely that there is also a high interest in the stocks of such companies.
This will definitely go up in the coming years. The on boarding process, although online, is a bit cumbersome right now since there is a stringent KYC process as it goes through the Liberalised Remittance Route. I am sure that these processes will also ease as technology evolves.
TechGraph: Geojit has been collaborating with technology partners to boost its digital footprint. Going forward, do you see more such engagements?
Jones George: Yes. Our quest for new technology that will benefit our customers and business is insatiable and our technology platform is immensely scalable/flexible in order to accommodate new products seamlessly. We are already working with a few technology companies to provide better information to our clients on their investments.
World over, companies are opening up their systems to create a more collaborative ecosystem. We also believe that greater collaboration leads to greater benefits and that will be the trajectory we will aim to take as well.
TechGraph: Which are the new technologies, ideas, streams that are kindling interest in you and your team? Don't you think investing well ahead of the technology curve is the right thing to do to future-proof business?
Jones George: Definitely yes. We believe in the magic power of technology and strongly believe in the digital-first strategy. We have always invested in technology much ahead of the curve and we will continue to do so. Internally, we are experimenting with AI models and RPAs to enhance operations and reduce turnaround time.
We are also studying how algo-trades can benefit the larger mass of investors rather than just a small section of people. Technology is growing at an incredibly fast rate, but at the same time, there are so many developments that are increasingly becoming obsolete as well. There are a lot of new developments which couldn't take off.
Even Google has spent billions on extremely fascinating projects but had to shut down because it was either too soon or it couldn't keep up. The art is in identifying what will stick but I believe that the most important thing is whether the piece of technology aligns with the organizational vision.
First published in techgraph.co