By Anu V. Pai, Commodity Research
After a prolonged lull, Indian natural rubber market appears to be in a revival mode. Natural rubber prices are on a rise for the last few months and RSS4 grade rubber in the major spot market in Kottayam, Kerala, climbed to its highest level in more than seven years.
Supply-Demand Scenario
India is the sixth-largest producer of natural rubber standing behind Thailand, Indonesia, Vietnam, China, and Cote d'Ivoire, with 5.1 percent of the total global production. In India, Kerala is the top producer of natural rubber followed by Tripura, Karnataka, Assam, and Tamil Nadu.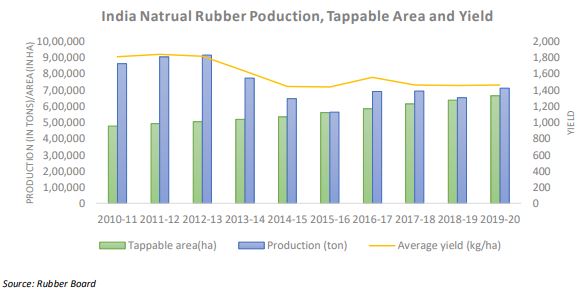 Natural rubber production in India showed a considerable decline since peaking to a record high of over nine lakh tons in FY 2012-13. Retreat in natural rubber prices from the record highs and staying low for a prolonged period and rise in the cost of production saw growers' interest in increasing production waning off. Also, a well-supplied global market with production either exceeding or being sufficient to meet the demand, low prices in the overseas market compared to the local market and higher imports impacted the sentiments. Further, unfavorable weather, especially during 2018, and the spread of the fungal disease had hampered natural rubber production in the country. However, a rebound was witnessed in 2019-20 with natural rubber production registering a gain of 9.4 percent to 7120000 tons after registering negative growth in the previous fiscal.
The Rubber Board attributes the rise in output predominantly due to the following factors:-
-Increase in tapped area by 40000 hectares
-Harvesting of untapped area by 4000 hectares
-Increase in rain guarded area
-Relatively favorable climate and weather compared to the previous year
-Relatively higher rubber prices
-Continuation of Rubber Production Incentive Scheme by Govt. of Kerala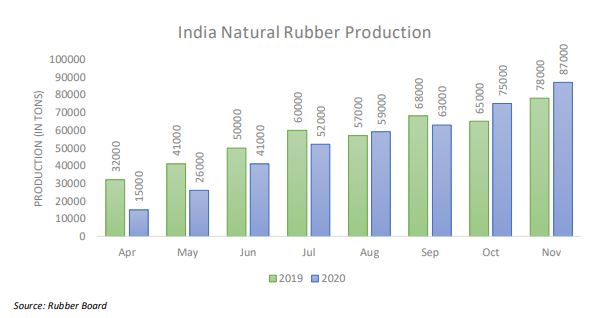 Yet again, a decline is expected in 2020-21 mainly due to the Covid-19 pandemic. The data for April-November 2020, released by the Rubber Board shows a decline of over seven percent in natural rubber production on year on year basis. While a pickup is expected in production during the peak production months, still it is doubtful whether it may exceed the 2019-20 levels.
On the consumption side, India stands second, behind China, with a share of 8.4 percent of the total global consumption.
Consumption of natural rubber has been mostly on a rise reaching 1211940 tons in 2018-19. However, it registered a negative growth of 6.4 percent in 2019-20 to 1134120 tons. The decline is mainly due to a fall in off-take from the auto-tyre manufacturing sector, which accounts for about 67 percent of the total natural rubber consumed in the country.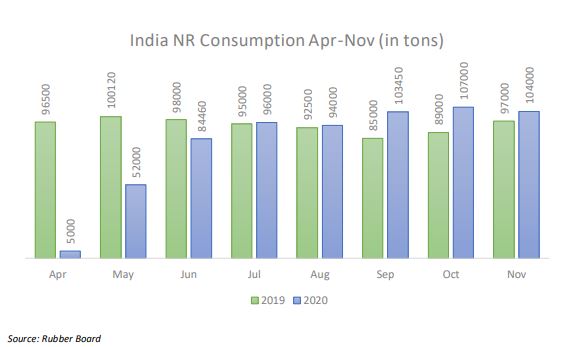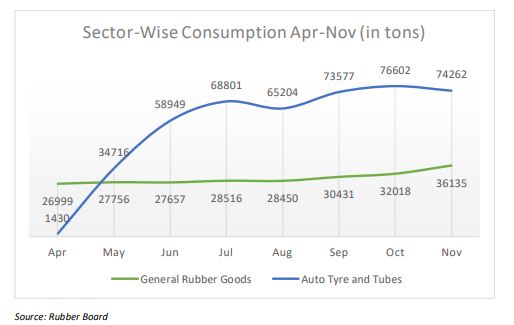 The negative growth seen in automobile sales and concerns over economic growth affected the demand for natural rubber. According to the Society of Indian Automobile Manufacturers, in the FY 2019-20, total vehicle production in the country dropped sharply by 14.73 percent to 26362282. Sales of passenger vehicles declined by nearly 18 percent, while that of commercial slumped by 28 percent. Two-wheeler and three-wheeler sales dropped by 9.9 percent and 17.78 percent respectively. In the meantime, demand from the general rubber goods sector rose by 8.6 percent to 377855 tons in 2019-20.
During April-November 2020, natural rubber consumption in the country dropped to 6.45 lakh tonnes against 7.53 lakh tonnes during the same period the previous year. The spread of Covid-19 pandemic and the resultant temporary halt in socio-economic activities in the beginning of the FY-21 have severely impacted the demand for natural rubber. However, considering the monthly consumption figures, a rebound is being witnessed after the initial slump during the initial months supported by the expectation of revival in demand from the auto sector, while demand from the rubber goods sector posted negative figures.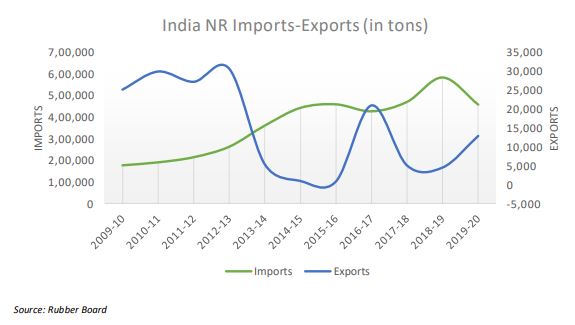 Like consumption, imports have been rising as well, reaching a record high of 582351 tons in the FY2018-19. Fall of domestic production to consumption, lower prices in the overseas market compared to the local market, quality issues, etc. led to a rise in natural rubber imports. However, in the FY 2019-20, in tandem with a decline in consumption, imports declined as well by 21.5 percent to 457233 tons. For the April-November period, a declining trend is being witnessed as well. In the meantime, export grew from 4551 tons in 2018-19 to 128272 tons in FY 2019-20.
Natural Rubber Price Trend
For the past few years, sentiments were bearish in the natural rubber market and had been mostly confined to a range. The uncertainty following the spread of the Covid-19 pandemic, subsequent lockdown, and the sudden halt in economic activities had affected natural rubber prices as well. Along with many other industrial commodities and crude oil, natural rubber had hit multi-year lows. However, since April last year, it is in recovery mode.
Natural rubber prices in India are steadily on the rise since hitting their lowest level in three and a half years in April 2020. RSS4 grade rubber in the Kottayam spot market was quoted around Rs.115 a kg in April last year, its lowest level since October 2016. With gradual unlocking of the economy and resumption of economic activities, recovery in natural rubber prices began and it started to gain steadily. The advancement in natural rubber prices to multi-year highs in the Indian market can be predominantly attributed to the following factors:
-Expectation of revival in demand especially from the automobile industry: Due to the spread of Covid-19, public transportation was affected severely and people's preference for personal transportation saw a huge jump in demand for passenger vehicles.
-Forecast of fall in natural rubber production: Even as production is expected to rise during peak production phase of October-January, natural rubber output for FY2020-21 is forecast to be lower from the previous years due to disruptions caused by Covid-19 and seasonal lean phase from February-April.
-Global cues: Steep rise in natural rubber prices in the overseas market, fall in global natural rubber production and rise in demand from China, the top consumer, as well as from the healthcare sector have bolstered the sentiments in the domestic market as well. According to the Association of Natural Rubber Producing Countries, world production of natural rubber is estimated to decline by 7.7%, year-on-year, to 12.782 million tonnes in 2020, while the world demand for NR clocked at 12.827 million tonnes during 2020, a contraction of 6.9%, year-on-year basis.
Also, narrowing down of the difference between rubber prices in the Indian and overseas markets affecting the viability of imports moves to raise minimum support price under Rubber Production Incentive Scheme from Rs150 a kg to 170 a kg, rise in crude oil prices, the ongoing lean production phase, improved economic outlook and rollout of Covid-19 vaccine fanned the recovery in natural rubber market. Subsequently, RSS4 grade rubber in the key spot market of Kottayam hit Rs.172 a kg, hitting its highest level in seven years.
Looking ahead, firmness witnessed in the Indian natural rubber market may continue with the current underlying market fundamentals, but there still prevails some amount of uncertainty with the resurgence of Covid-19 infections. Moreover, a season shift is set to happen in the natural rubber market and the lean production season is set to end soon. The following factors will dictate the trend in the coming days:
Developments with regard to the spread and containment of the second wave of Covid-19 infections.
Response of growers to higher prices. Rise in natural rubber prices and an increase in minimum support prices under the RIPS could probably encourage the growers to raise production.
Weather- especially the arrival, intensity, and distribution of Southwest monsoons.
Automobile sales.
Global natural rubber price movement and supply-demand.
Movement in Crude oil prices
Demand from China
Global and India's economic growth policies and outlook.