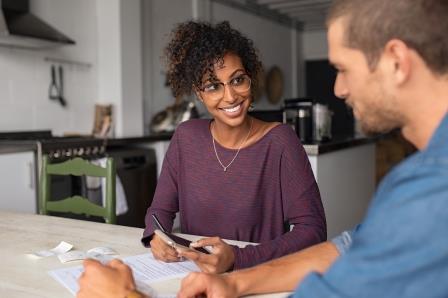 It's your first job and you have just received your very first salary. While it can be exhilarating to have the first taste of financial freedom and even tempting to spend it all, take a deep breath and think: it's probably not smart to spend all the money, especially if you can meet your financial aspirations.
 After all, it is only in our 20s that most of us have adequate disposable income and fewer responsibilities. You also have the ability to take more risks. Thus, it makes sense to think about financial planning right from the time you receive your first paycheck.
Here's how you can go about:
1. Control Your Expenses: The first thing to do in financial planning is budgeting your expenditure. Of course, you may have basic expenses such as food and travel and even rent if you are living away from your home for your job. However, you can always cut down on your expenses. Ensure that you have a certain amount of your salary as savings and put aside some for investing.
2. Set Specific Goals: When it comes to financial planning and investing, ensure that you set specific financial goals-be it for vacation, marriage, or even higher education. This helps you stay more focused and determine where and how much to invest.
3. Start Investing Early: As mentioned earlier, you may have a greater proportion of your salary as disposable income and also a higher risk appetite in your 20s. You may thus go for a more aggressive investing strategy by deploying your money in equities or equity mutual funds, which have the scope of generating wealth over the long term. Starting early also allows you to benefit from compounding, especially if you take the SIP route. Let us illustrate with an example how a delay in investing can cost you:

4. Buy Insurance: While your company may provide you with health insurance, there is also a chance that you may lose your job. Hence, it makes sense to buy your own health insurance. Health Insurance premiums cost much less in your 20s considering typically individuals do not have any pre-existing health conditions at that age.
5. Diversify: Finally, ensure that you put your investments in different asset classes, that is, diversify your investments so that even if one asset class underperforms, other asset classes will offset the loss.
6. Emergency fund: This can serve as a cushion for you and your family. You may even choose to park some money in liquid funds, which provides scope for better returns than a traditional savings account.
7. Tax Planning: Ensure that you also understand how to save taxes, especially taking advantage of tax deductibles under Section 80C. Many products such as ELSS and tax saving FD can actually help you save a lot of tax.
At Geojit, we have a rich heritage of providing financial solutions to individuals at every life stage. As a pioneer in the industry, Geojit aims to continue innovating and making markets accessible to individual investors. Geojit can serve as your trusted partner in financial planning with a gamut of products and services such as multi-channel distribution of mutual funds & insurance, equity and derivatives, commodity, and PMS.
Conclusion
While investing can be intimidating in your 20s, you can always get guidance from our certified financial advisors who can help you find the right products to realise your financial goals.