Amidst increased farmer distress and slow farm growth, the Government of India has substantially increased the minimum support price (MSP) of 14 kharif crops early this month. Government will procure these crops with an average prices hike of 4 to 52 percent against previous year. The Agriculture Ministry had proposed a higher rate than what was recommended by the government advisory body, CACP due to growing farm distress. This year's MSP has been fixed with an aim to ensure a price that is at least 50 percent higher than the cost of production. Though the decision was almost as expected, it will put an additional burden of around Rs 15,000 crore on the government.
Concerns over farmers and farming sector have been upsetting the government for the last few years. Due to bumper production in the last two years in many notified crops, framers were bound to dispose their produce far below MSP which adversely affected their income.
Double-digit food inflation and higher fiscal deficit had forced the government to hike the MSP in single digits in the past years. However, in the last budget, Finance Minister Arun Jaitley assured that the government would increase the MSP of kharif crops to 1.5 times of the cost of production. This decision is being treated as a step towards fulfilling the government's objective of doubling farmers' income by 2022.
Usually, government announces MSP for agriculture commodities just before the start of sowing season to support farmers for choosing the crop they want to sow and to set a benchmark price. Kharif crops sowing starts with the onset of Monsoon and harvesting will begin from October.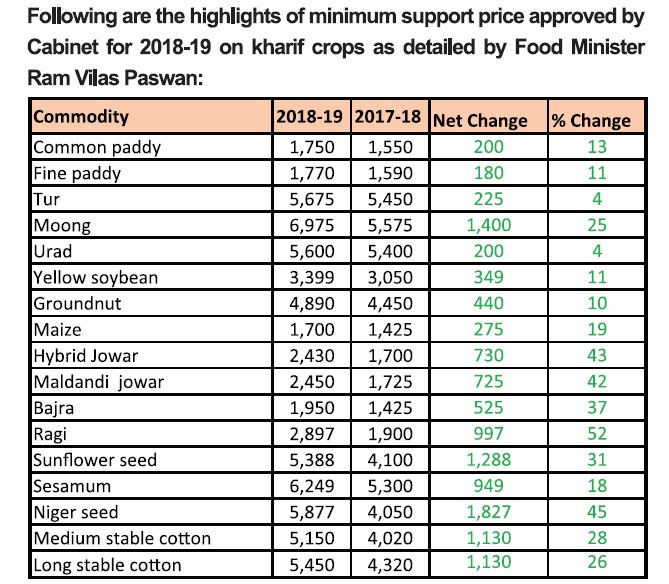 The largest gainer in MSP this year is coarse grains, which are commonly planted by poorest farmers especially in unirrigated land. About a quarter of the country's cultivable area is under such crops.
MSP for Ragi at Rs 2897 against Rs 1900 in the last kharif season, is the highest increase in percentage wise. Support prices for paddy, the largest crop grown in Kharif season, was also hiked substantially. As against its last season price, rates were hiked by Rs 200 to Rs 1750 a quintal. For cotton, depending on the quality of produce the support prices have been increased by 26-28 percent. For minor crops like Nigerseed and Jowar too, the hike is comparatively very high.
Prima facia, the hike looks impressive as it is the largest ever hike by any government in most of these crops. Usually, an abnormal increase in MSP leads to higher production as farmers shift to better-yielding crops. However, the real impact on prices will be seen once the harvest starts coming into the market by October.
Increased MSP is likely to bring about higher disposable income for rural customers and result in higher sales of consumer goods, vehicles etc. Increased acreage will raise the need for more agriculture allied products like tractors, fertilizers, farm equipment etc. As the raw material prices go up prices of some agro produce will also go up.
It is expected that the hike may add about 50-80 bps on our headline inflation based on CPI over the next one year. Increase in inflation is likely to lead to rate hikes by the RBI. However, impact on inflation is expected to be minimal as commodities with incremental increase in MSP have a small weight in price index.
The increased MSP could hit our export competency as well. If export prices are less attractive it may result in a glut in domestic market  leading to a drop in prices in the open market later.
Prospects of higher prices will also lead to a surge in production which requires proper cold storage and warehousing facility across the country. Since our present warehousing and logistics facilities are not enough to meet the future demand, the sector requires higher investment as well. The government is planning to add more storage capacity by 2020.
In the meantime, an efficient and proper procurement mechanism from Government is needed for farmers to get the increased price benefits to their income. As per a report submitted by the government-appointed committee on restructuring Food Crop in India, only 6% of total farmers in the country can sell their crops at MSP. Even in states like West Bangal and Bihar, where rice is largely produced, infrastructure for procurement is inadequate to ensure minimum support price for paddy farmers.
In many states, state governments are taking efforts to create an efficient system for procurement. Though there are 20 crops for which MSP has been raised, procurement is effective only in one or two commodities. Meanwhile, too much procurement is also not good for farmers as it depresses local market prices. For certain crops, like pulses, the government has already procured more buffer against their initial plans.
Anyhow, the farming community expects that the government will find ways to bring-in more farmers under MSP belt to benefit from  the increased price. Still, the actual impact of such a substantial hike will depend upon proper implementation of MSP.