An insurance policy is a legal contract between you and the insurance company under which the company promises to cover a specific type of financial risk that you face. Against this coverage, you pay a premium, and the coverage is granted for a specific period. Since you face different types of financial risks, there are different types of insurance plans designed to cover such risks. You should know about these types of plans so that you can choose to buy the most suitable policy according to your coverage needs.
Broadly, individual insurance plans are categorised into two different categories – life insurance and general insurance. Life insurance mainly covers the risk of premature death. General insurance, on the other hand, is a broad category under which there are different types of plans. So, let's understand the most common types of insurance policies available in the market.
Life insurance
As mentioned earlier, life insurance is a type of Insurance policy that covers the risk of premature death. You buy a life insurance policy for a specific duration, and in case of death within the plan duration, a death benefit would be paid. There are different types of life insurance plans, which are as follows: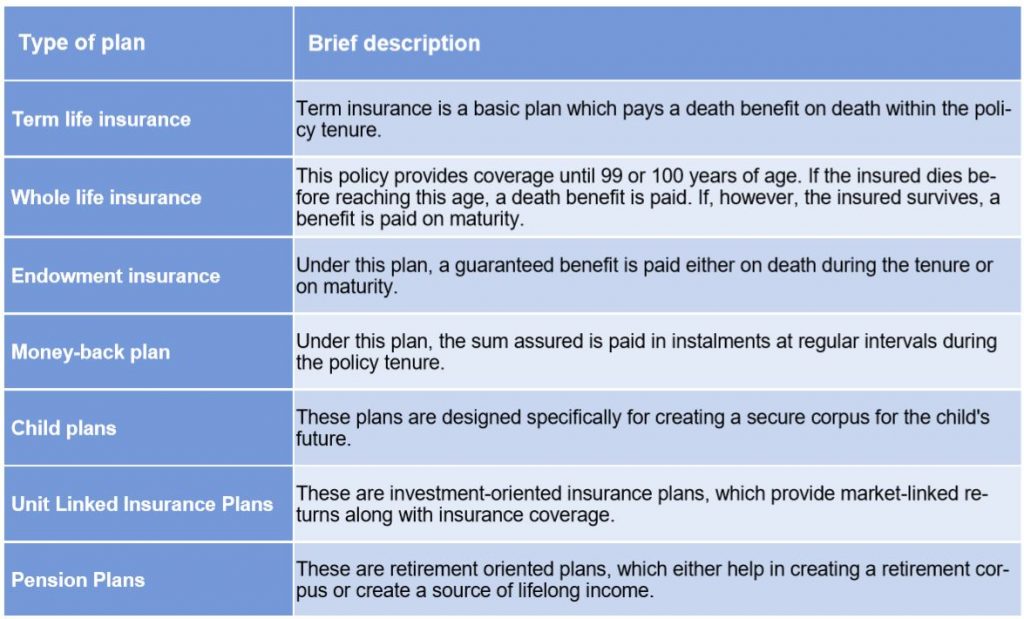 General insurance
Under the general insurance category, the following types of plans are commonly available:
Health insurance
Health insurance plans are those which cover the financial costs associated with a medical emergency. Under indemnity oriented medical insurance plans, the medical costs incurred on hospitalisation are paid by the policy. There are individual health insurance plans, which cover a single individual and family insurance plans, which cover all the family members under a single policy. Moreover, there are specialised plans for senior citizens.
You can also find fixed-benefit health insurance plans under which a fixed benefit is paid irrespective of the medical costs that you incur. Common examples of such plans include critical illness health plans, hospital cash plans, etc. These health insurance plans are offered by both private health insurance companies as well as Government-owned health insurance companies.
Motor insurance
Motor insurance plans include car insurance and two-wheeler insurance plans. The Motor Vehicles Act, 1988 mandates a valid third party liability cover for every vehicle in India, and so, motor insurance plans are a must for your vehicles. These plans cover the financial liability incurred if an individual suffers physical injury, death, or property damage due to your vehicle. If you opt for comprehensive motor insurance plans, the damages suffered by your vehicle would also be covered.
Travel insurance
Travel insurance plans are those which cover the financial losses that you might face when you are travelling. Some of the common coverage benefits offered under travel insurance plans include emergency medical expenses, loss and/or delay of baggage, loss of passport, accidental death or disablement, etc.
Home insurance
A home insurance policy covers the financial loss suffered if your home and/or its contents are damaged due to natural or man-made calamities. So, if your house burns down or if there is a theft, the resultant loss would be covered by a home insurance policy.
Which one should you choose?
Though there are different types of insurance plans, you should choose the ones which you need. A life insurance policy is a must to provide financial security to your family in your absence. You should, therefore, invest in the best life insurance plan. If you are wondering what is the best life insurance policy among the different variants available, the choice depends on your needs.
A term insurance policy is a must for financial protection. Thereafter, you can choose a child plan if you have a children, and you want to create a secured corpus for them. Similarly, for planning your retirement, you can pick pension plans. So, understand the different life insurance plans and then choose the most relevant ones.
Besides life insurance, a health insurance policy is a must for meeting the expensive medical costs, which you may incur in a medical emergency. Then, if you own a vehicle, a motor insurance policy would become mandatory. Travel insurance plans are good when you plan a trip and a home insurance policy adds a protective layer to your home.
So, in a nutshell, buy a life insurance and health insurance plan and then choose the other plans as per your coverage needs.
To select the right insurance plan contact your Geojit Branch.