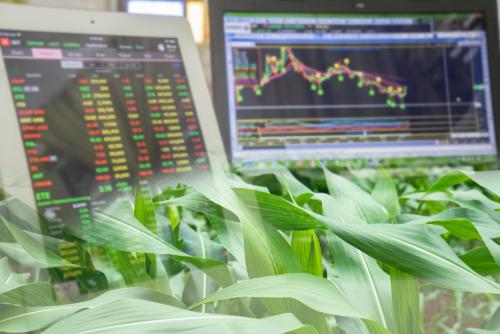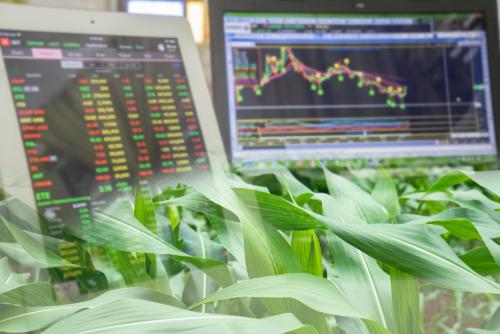 By Vinod T. P. and Anu V. Pai
We are mid-way through 2020, which has so far turned out to be a flustering one for the global economy. From geopolitical tensions to trade tensions to Covid-19 pandemic have all rattled the world economy and created turbulence in both financial and commodity markets. While mostly non-agriculture commodities took the immediate beating, agriculture commodities were not insulated from the turmoil especially with regard to Covid-19 pandemic. It has created supply-demand imbalances, supply chain disruptions, and price distortions, the impact of which has been severe for some agriculture commodities.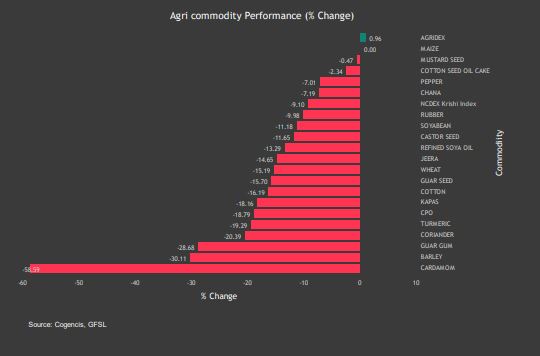 Oil and Oil Seeds
All the commodities in the oilseed basket plunged in deep red. In the midst of a partial opening up of the Chinese market to the US for exporting agriculture commodities, the systemic risk caused by spreading of pandemic COVID-19 virus affected oilseed faction.
Soybean futures in the NCDEX platform fell nearly twenty percent. Disruption of supply due to lockdown, rise in soybean output during the last kharif season with a fall in exports of soymeal from India led the selloffs. In the international front, rise in production from Brazil and Argentina along with fall in consumption due to economic slowdown amid higher carryover stocks fueled bearish sentiments. However, later prices were revived due to a shortage of supplies in the domestic market, an increase in MSP for soybean and renewed export demand for US soybean from China.
Mustard seeds witnessed see-saw moves as in the early months of the year, the expectation of a rise in output followed by nationwide lockdown hampered the market sentiments. Moreover, higher carryover stocks and lower demand from traders accelerated the fall. However, prices recovered after the government relaxed restrictions and procurement of produce by NAFED amid lower supplies.
In the entire edible oil basket, crude palm oil prices fell the most. Anxieties over tensions between India and Malaysia led to a fall in prices. Moreover, fears overspreading of Covid-19 across the globe and drop in demand for biofuel intensified the selloffs. Fall in crude oil prices to below subzero levels also heated up the weakness. A revival in prices was seen later after the government reduced lockdown restrictions.
Spices
Exchange traded spices-cardamom, coriander, jeera and turmeric have been trending lower since the beginning of the year. Cardamom, was hovering near the five month high in January this year due to an expectation of lower output. However, favorable climatic conditions and good summer rains improved production outlook for 2020-21 season, putting downward pressure on prices. Later, emergence and spread of Covid-19 pandemic hampered the demand and export prospects of the spice, pushing its prices down to more than one year low on MCX. Activities in the spot market were also affected. E-auctions being conducted by the Spices Board of India were halted during lockdown and have resumed only recently.
Prices of other three spices, coriander, jeera, and turmeric were bound south from the beginning of this year predominantly due to the expectation of good output. Despite delayed sowing in jeera and coriander in the 2019-20 rabi season, area under these two crops was seen rising significantly and production was estimated to be higher compared to last year. The official forecast showed jeera and coriander production to be at 547000 and 762000 tonnes respectively this year compared to 416000 tonnes and 567000 tonnes respectively reported last year for the aforementioned two spices. For turmeric, in spite of crop in Maharashtra and Karnataka being affected due to flood, production is seen at 913000 tonnes in 2019-20 kharif season. Turmeric plunged to its weakest level since Dec-2013 on NCDEX in May, while jeera on NCDEX tumbled to its lowest level since 2016 and coriander on NCDEX hit a six month low in March.
Adding to the woes was the disruption in trade caused by the Covid-19 pandemic. While the harvest of coriander in Gujarat, Rajasthan, and Madhya Pradesh, jeera in Gujarat and Rajasthan were mostly completed before the nationwide lockdown announced in India. Post-harvest activities, storage, and transportation of produce to the market were severely affected due to the lockdown. For turmeric, in the key hub of Nizamabad, Telangana, harvesting was completed and 60% of the produce was traded before the lockdown. Whereas in Tamil Nadu, the harvest was completed in about 70-85 percent regions and shortage of labor is affecting the harvesting process. In Maharashtra, harvesting is in progress but most of the output is yet to be traded. Spot markets were closed following the announcement of nationwide lockdown and have resumed operations only by late April and early May as the lockdown rules were being relaxed. But, they are yet to be fully functional. Exports too were disrupted due to the measures taken to contain the spread of Covid-19 in India and in many destinations like the US, European Union, China, Middle East countries, etc.
Cotton and others
In cotton, prices fell sharply throughout the period with intermittent pullbacks. Anxieties over the US-China trade relations and lower exports depressed the market sentiments. Moreover, the expectation of a rise in global output amid higher global stocks followed by disruption of supply weighed on prices. While the bi-product, cottonseed oil cake fell sharply in the initial months of the year due to lower demand for cake and expectation of higher cotton output. It later retreated on lower arrivals in the spot market and firm demand. Castor also declined due to lower demand for cooking in the domestic market amid higher output. Moreover, lower export demand for oil from China also weighed the sentiments.
Other commodities like guar seed and guar gum are trading on a bearish trajectory as well, while chana has been mostly steady after bouncing back from a one and a half year low made in February on higher production estimate in 2019-20 rabi season and sufficient stocks. Guar seed on NCDEX declined to its lowest level since July 2017 in April, while the fall in guar gum was much steeper, hitting its lowest level in almost a decade on NCDEX. The demand for the guar derivative skidded in tandem with a decline in crude oil prices while guar seed received some support from demand from the feed sector.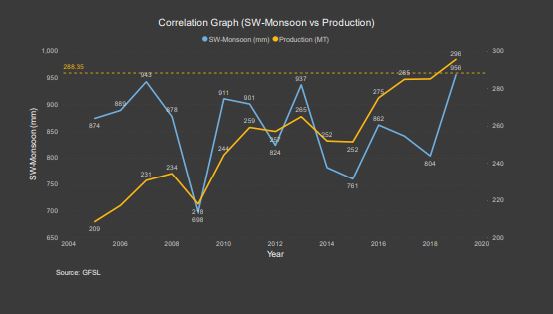 CurrentScenario
While agriculture commodities continue to bear the brunt of trade disruptions caused by the Covid-19 pandemic, the timely arrival of monsoons has cheered the market. Southwest monsoon set in Kerala on June 1st, making it a timely onset after seven years. According to IMD, the country is expected to receive normal rainfall during this June to September season with rainfall expected to be 102 percent of the Long Period Average (LPA). Meanwhile, a U.S agency reported that condition is favourable for re-emerging La-Nina in the Pacific Ocean which is likely to strengthen monsoon. So far, India has received a good rainfall, which may gather the pace of sowing in the coming days.
The arrival of monsoons also coincides with kharif sowing. Even as there was a delay in sowing, pace of planting is picking up now in most of the key crops such as cereals, pulses, cotton, sugar, turmeric, and castor. Except for soybean, most of the Kharif sowing are on full swing. However, it is too early to decipher a clear picture of it at this juncture. In the meantime, the central and state governments are adopting a slew of measures to support the market. The central government has hiked the Minimum Support Price (MSP) of almost all the kharif crops to boost production thereby the government's ambitious plan to aim to double the farmer's income by 2022. Moreover, the government's plan to amend the six-decade-old Essential Commodities Act will give a fillip to transform the Indian farming sector and farmers' income. This will attract private players and foreign investments into the agriculture sector. It has a special power for the government to impose curbs on stocking of produce. A slew of other key amendments in the agriculture sector are on cards in the coming months.
While kharif sowing is progressing, a major concern is locust attack. Swarms of locusts invaded Rajasthan, Madhya Pradesh, Uttar Pradesh, and Maharashtra recently. With most of the rabi crop harvest was over and sowing in kharif crops just started, the damage so far is limited, even though certain horticulture crops were destroyed.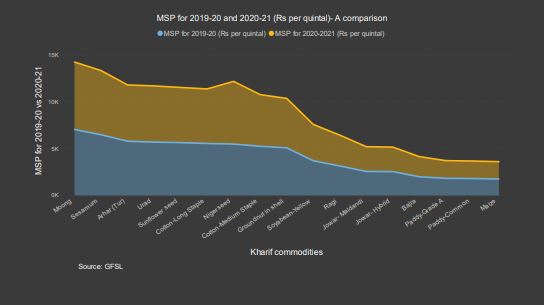 Looking ahead, in this uncertain Covid times, certain factors must be closely watched for as it will influence the prices of agriculture commodities apart from its basic fundamentals:
Severity and measures to containing the spreading of Covid-19 virus.
Monsoon and distribution of rainfall throughout India and other weather vagaries.
Sowing Progress
Pests and diseases, especially the looming threat of locust attack.
Government's interventions in the agriculture sector and key reforms to boost the economy.
Government's adherence to the agriculture procurement program.
Government Policy on imports-exports