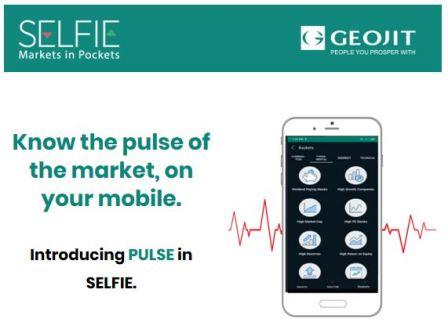 Selfie Mobile, the next-generation trading and investing platform of Geojit, has an advanced and user-friendly interface. To further enhance your mobile trading experience, we constantly innovate by adding new features .
One such feature is PULSE, which quite literally, is the 'Pulse' of the stock market as it updates the user about real-time market events.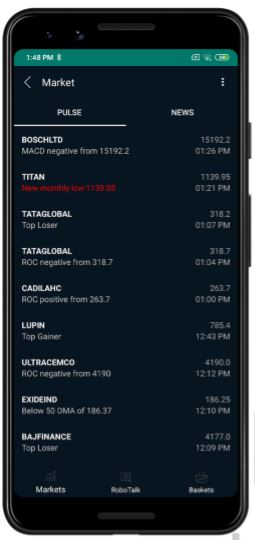 The Home screen is concise, easy to read and loaded with information. It ensures you never miss any Market Event or News. Our state-of-the-art AI provides you all the information you need to trade smartly. The entire screen is divided into 3 parts:
Home screen
Trading Space
Update curation
As soon as you start the App, you see the Sensex and Bankex points with the daily movement displayed next to it.
Trading Space:
The screen beneath it is 'Trading Space'. It is divided into two parts: Pulse and News.
Pulse
The Pulse section shows real time market events. Quiet literally, it is the 'Pulse' of the market and the stock market. Each section has four details:
Stock Name
Market Event (ex. Top Loser, Monthly High, Below 50 DMA, etc)
Time of event
Current stock price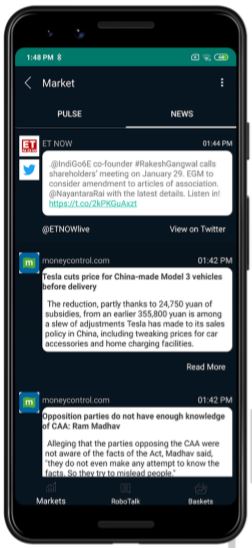 News
The News section shows real time market news. It provides news from over 125 channels including BSE & Twitter. It offers the following seven types of market moving news in one single screen:
Block Trades
Global News
Local News
Stock Specific News
Sector Specific News
Intraday News
BSE Announcements
Update curation:
It allows you to filter the PULSE and NEWS sections with a simple click. On the top right corner of your screen, you will see three dots. Click on these dots to switch from 'All updates' to 'My updates'. The 'My updates' section filters all stocks and displays information only about your personal stocks. These are the stocks you have either bought, searched for, or added to your Watchlist.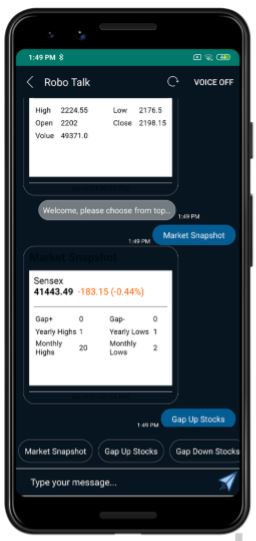 Watchlist
You can Add/Remove stock from your Watchlist via RoboTalk. The chat screen will send you curated notification when your Watchlist stock is:
In the News Section
Example: Reliance entered a Block Trade, DHFL releases quarterly earnings
In the Baskets
Example: Reliance is the top gainer, DHFL is at a Doji Breakout
Hourly Updates
This time-saving feature sends you hourly notifications anywhere, anytime. It gives you:
Overall Market View
Example: Markets are flat. Sensex is at 38398.3 up by 25 points. Wipro & Infy are top gainers. BPCL, NMDC are top losers
Watchlist Stock View
Example: Grasim moved by more than one percent in the last hour. It is trading at 656 with a high of 658.
Trade in Real-time
You can BUY/SELL stocks within RoboTalk as soon as you get an alert. Now you can stay a step ahead of everyone else in the markets.
Ask Anything
RoboTalks has answers to all your stock market related questions. You can simply type a stock's name and get: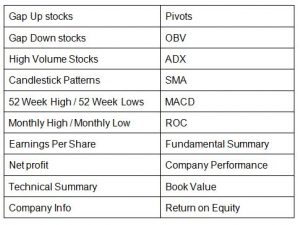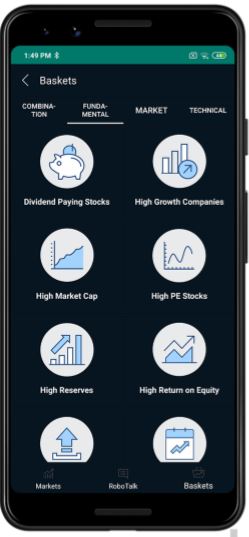 The best way to understand Markets
If you are new to the stock market,, Pulse is an useful tool.
Baskets sort thousands of BSE-A group stocks into 30+ groups. It's the perfect way to figure your way around the market fluctuations. Simply 'Follow a Basket' and relax. Our research-based algorithms will send you a BASKET alert with recommendation to BUY promising stock.
These stocks are filtered on the basis of either
Fundamental Data
Market Data
Technical Data
Combinations
Get the freedom to choose which BASKET suits you the best. Now your stock market decisions will be backed by real-time accurate market data.